Courtney
Anal
2006-06-29
I got cleaned up and dressed casual in some Dockers and a golf shirt, looked pretty decent. I hadn't been eating much so I had lost weight and riding my bike to work had gotten me back into some semblance of shape. I jumped into my Miata and headed out there, referring to the map on the back of the invitation. When I arrived, there was an attendant at the gate; he took my invitation, marked something in a book, told me where to park, and how to get into the clubhouse. As I was driving in I could see by the fading sunlight that this place was pretty extensive, Golf course, Tennis, Racquetball, Swimming pool, sauna, hot tub, the works. I went into the clubhouse and made my way to the lounge. I frowned when I noticed the majority of the people were ten years my junior, they pretty much ignored me. I saw a couple of guys I worked with, they were already bird-dogging the hottest looking chicks in the place, "the little head thinking for the big one". I thought to myself. The girls seemed annoyed and pretty much ignored these guys. I chuckled to myself. Dolts, if they learned how to treat a lady and acted half disinterested, the women would flock to them. I wandered around and was relatively bored. I took in the Billiards room; they even had a small casino with slot machines, which were illegal, but nobody seemed to pay any attention to that fact. Someone was lining the pockets of local law enforcement, that much was obvious. There was even an Internet room where a few people were mindlessly surfing the web; some surfing Porn sites.
Escort Forum
. . Mostly young guys. one butch looking girl was on a lesbian site. . Figures, I thought to myself. Probably hoping another Lezzie would see what she was doing and hit on her. I laughed when I saw the name of the site, "Dykes of Hazzard" "Danger, curves ahead. " There was a Banner graphic of 2 butch women in an Orange Dodge Charger with a brown triangle on the roof. I was almost through with my first drink, a blended Margarita, so I decided to head back to the bar for one more. I was figuring this was a bust, I'd have another drink and then head home, at least the Condo was clean now. I sat at the bar and turned in my glass for a fresh drink, I turned and surveyed the area, mostly young professionals discussing how much they supposedly made, some were discussing their new cars or a new program they were writing. I myself preferred to leave work at work and home at home. I was starting to loosen up as the alcohol relaxed me. I realized "All work and no play, makes Randy a Dull Boy" Hmm, I guess I must be pretty dull.
athens ladies all escorts independent escorts agencies escorts boys and trans city tours
I was trying to rebuild my life after the divorce. I had been taking care of the basics, but I was beginning to realize I was very lonely. I had buried myself in my work. . . I decided to stick around for a little while, if, for nothing else, to just observe the crowd. I had smiled at a few women and they gave a mild reaction, probably more out of courtesy than anything else. My eyes were scanning the room when they locked onto a pair of lovely eyes staring right at me. I must have acted startled, the eyes crinkled a little as this very lovely, very well endowed female, smiled at me. I looked down and then back at her. She was looking at me still. . . . OK I thought, "Lets see if this is a game".
european escorts
I looked back into those eyes, but they had changed. Now they were looking warm and dreamy, relaxed, like they had found what they were looking for. I looked more intently and she gave me a look that spoke volumes, this was a very complex, interesting woman. I picked up my drink and walked her way. She was wearing a modest evening dress that was hugging her ample curves, the younger guys had stared at her full breasts and she just ignored them. I approached her and held out my hand, she smiled and extended hers, smiling. I said "Hi, I'm Randy" she smiled and said, "Oh my, are you now?" I blushed slightly. Ah, a worldly one, she knew that "Randy" in England meant "Horny" "I'm Martha C. Burns" she said, but call me Courtney. I readily agreed. We made small talk and decided to walk around and discuss our careers, education, etc. The sun had set and the blazing temperature had dropped 20 degrees, it was pleasant, so we walked out onto the terrace. We looked over the club; the trees had been adorned with thousands of white lights, giving it a warm, pleasant appearance. . .
Escort Service, Escorts and city tours in Athens and Thessaloniki. ... Presentation of the services of the agency models escorts Escort in Greece
I was beginning to enjoy myself and was glad that I hadn't bailed earlier, when I had initially intended to. We were close in age and the talk seemed to flow naturally. Courtney suggested a walk to a nearby wooded area, I agreed so we walked and talked more. . . The effects of the drinks and the interaction with a warm, friendly woman were having their effect. As we walked into the area, I glanced quickly at her breasts. Her nipples were prominently displayed, hmm I thought, she didn't stand out like that inside and it's at least 85 out here, can't be the cold I smiled to myself. There were some uneven areas in the asphalt path where the tree roots had grown under it, Courtney stumbled. (On purpose?) I offered my hand to steady her and she gratefully accepted. Once past the rough walkway she didn't let go of my hand, her skin was soft and cool. It felt so nice to touch a woman after a year's time. I leaned against a tree and we were talking, the conversation lagged and I was looking into her eyes again, they were glassy with lust, she moved close to me and I embraced her, our lips met and parted, our tongues slowly exploring each other. There was no big rush, it was relaxed and warm. I pulled her to me and she placed a hand on the back of my head and held me there for long time.
A-level/A+ : Anal sex Anal Rimming/Rimming : Oral stimulation of anus ATM : Ass To Mouth Bareback : Without condom BBBJ : Bare Back Blow Job (oral sex without condom) BBBJTC : Bare Back Blow Job to Completion (oral sex to orgasm - CIM) BBW : Big Bea
I tested the waters by allowing my hand to slide down her back, and cup her buttocks as I kissed her. It met no resistance. She slid her hand boldly between my legs as we were kissing and fondled my growing erection. "Oh my, we are a big boy aren't we" she said and smiled. Her willingness and aggressive manner pleased me. It was refreshing after having been in a marriage where my ex wife considered sex a chore to be gotten over with as soon as possible. "We need to take care of each other" she said, "my pussy is in meltdown". "I'm not wearing any panties and my juices are running down the insides of my legs". I suggested we go back to her place. "I can't", she said, frowning, "you might as well know. . . Technically, I am still married, and we are living under the same roof until our divorce is final". I suggested going back to my place but it was over an hour away. Hmm.
Enjoy incall services with Istanbul escort service Istanbul escort service also provides you incall services through which you can go and visit the woman of your choice at her home. Istanbul escort services know that not all men are comfortable inviting a
. . she considered walking out further into the trees, but there were other couples walking about. "I have an Idea," I said, remembering the fenced-in pool area. We made our way over and quietly released the latch, the poolside courtyard was dark as no one was swimming this time of night. We made our way back into a corner, which was darker yet. There were lounge chairs with nicely padded cushions on them. We began to kiss again and I placed a hand on her right breast, the nipple grew even harder and she placed her hand over mine and pulled it tightly against her. . . "God", she said, "I'm about to cum already" I suggested she hike up her dress and lie down on the lounge so I could dine on her hot, steaming pussy. "Nope" she smiled, "Ladies first. " I want to meet that large, rigid member of yours. She unzipped me and pulled my cock out of my underwear, "Damn" she said. "This fucking thing is huge" "oops, sorry about the pun" she giggled.
A BLOG FOR THE VISITING GREECE ESCORTS AND NOT ONLY. FIND ALL LOCAL ESCORTS OF GREECE.
She slowly engulfed it into her mouth until her nose was in my pubic hair, then she began to withdraw and deftly run her tongue under the head, right on the sensitive nerve. I moaned and I could tell she was pleased with herself, she began using her hand and her mouth in unison. She was making loud slurping noises, I was glad the sounds of the crowd milling about on the other side of the fence a few feet away drowned her out. The fact that we were so close to people and were locked in a passionate session of oral sex seemed to inflame her. Her mouth was sucking hard on my shaft and her tongue would rake the underside. She was beginning to get to me. More and more precum was dribbling, as she tasted it, she knew her liquid reward was close at hand. I put my hand on her head to steady myself, not forcing her, but just going with the motion. She increased her pace, she was holding onto my legs and her mouth was a blur on my cock, my hips were beginning to thrust involuntarily and my balls began to tighten. All at one my cock lurched and sent a huge, gushing stream of white hot cum into her eager mouth, she was moaning and had a hand on her clit as I continued to unload. I had to force her to stop, as the head of my cock was so sensitive to the touch that it was almost painful. She looked up at me and smiled. A rivulet of cum drooling down her chin, she caught it and sucked it off of her finger, looking quite pleased with herself. "How was that Mr. B??" she inquired, smiling wickedly.
Only the best Turkey girls! Independent escorts and escorts form different agencies.
"Best head I have ever had" I said honestly. "Uh huh" she smiled. "You probably get this kind of treatment all of the time" I assured her it had been a year since I had been with a woman. She seemed pleased by that fact. My knees were beginning to get steady again. I had her lie down; I pulled the straps down on her dress exposing her large, firm breasts. The prominent nipples were begging for attention, I sucked them as she ran her fingers through my hair. I grabbed a towel from a nearby cart and folded it and kneeled down on it. I pulled her close to me and draped her shapely legs over my shoulders. I kissed inside of her legs up and down, purposely avoiding her steamy pussy. Finally I dove in and began flicking her swollen clit with the tip of my tongue. She moaned loudly and pulled my face tighter into her crotch. I had my lips wrapped around her clit, sucking it into my mouth and was rapidly flicking her clit with the very tip of my tongue. She had one quick jolting orgasm and continued to moan. .
Escort ilanları Yayınladığımız şehirler : İstanbul, Ankara, İzmir, Antalya, Bursa, İzmit. Bu iller dışında kalan illerden eskort arıyorsanız yakın illerden yada istanbuldan gelebilecek eskortlara bakmalısınız.
I inserted a finger into her tight, hot channel and rotated it upwards, quickly finding and stroking her G-spot. I began to believe no one had ever touched her there before by the way she gasped and started thrusting he hips into my face. I slowed down a few times just as she was about to cum, then would pick back up just to tease her; this was driving her crazy. She finally came with a huge rolling orgasm that caused the lounge chair legs to lift off of the ground a few times. She had my head locked between her legs and had them clamped around me. I was laughing and struggling to breathe. She released me and moaned "Oh shit, where did you ever learn to eat pussy like that"? I just chuckled and said, " I learned at an early age how to properly please a woman. I found that if I gave it my all and did a bang up job, I got so much more in return. "The guys inside would do well to learn that" she commented. "That's why I'm with you and not with them" As her breathing returned to normal, she sat up and totally removed her dress. She was now clad only in a garter belt and stockings and looked sexy as hell. I had dispensed with my clothes and shoes early on. She got on her hands and knees, and looked over her shoulder, "Ok big boy, its high time that you fuck me now," she said brazenly. She was right, as my cock had once again grown to it's full 8-inch length and was thick and rigid as a steel pipe. I walked up to her and she reached under herself and guided my cock to her love portal.
escort bayan taksim gecelik bayan eskort kadınlar anadolu yakası eskort
It was tight and wet and hot. I took the head of my cock and rubbed it up and down her wet slit, allowing the velvety hardness to bump her clit three or four times. She hissed and moaned and I popped the head into her lush tunnel. It slid in slowly and before long had hit bottom and was stretching her even more. "Damn you're huge" she moaned. She began to sway to and fro and my cock was sliding in and out of her and was beginning to feel really good. She had a finger on her swollen clit and was rubbing delicious little circles on the tingling bud. Mmmm, "God, I'm cumming again", she moaned, "fuck me harder!" I was slamming into her and getting close myself. All of a sudden she stopped, clamped her pussy down hard on my cock and ordered me to hold still. "You've been such a good fuck," she said. I want to finish this in my favorite way. I didn't know what she meant at first, she was fumbling in her little clutch purse and came up with a squeeze tube of lip balm. It was warm and oozy from being in the warm air. She squeezed a huge dollop of it onto her fingers and rubbed it around her ass. .
"Oh my god" I thought to myself, "she's going to let me fuck her in the ass" My cock, which was still firmly implanted in her pussy, grew even harder. My ex-wife would not even begin to entertain the thought of anal sex, and this woman was asking for it, damn! She pulled my slick, rigid cock from her pussy and placed it against her ass. As it pressed against the ring of muscle, it gradually began to slowly slip in. Once the head had "Popped" in, she moaned and asked me to stand still. As she began to relax, she pressed back into me. My cock was soon all the way in and my balls were resting against her gooey pussy. "Give me a moment" she asked. Once I felt the tightness subside slightly, she began to moan. "I haven't had a cock this big in my ass for years. " "Go ahead, start fucking my ass" she said in a low erotic tone, "God, I love being butt-fucked!" she cried. She and I began to pick up the pace. Her ass was hot and tight and it felt delightful, after having gone this long without sex and then having a session like this, I was almost light headed. We began fucking faster and faster, until my hips were a blur. I noticed she had a finger on her clit again, I cried out and filled her tight ass with a huge gushing load of steamy hot cum. She clamped down on my ass as she came and moaned loudly.
Escort Forum
As I began to straighten up I noticed a timer had turned the underwater lights on in the pool. The corner we were in had not been in the dark for several minutes. We glanced back and the clubhouse had a picture window lined up with people smiling at us. "Oh shit!" I though as I quickly began getting dressed, she slipped her dress back on and got into her shoes. There was a commotion inside as the club manager made his way to see what all the interest was about. He bolted for the side door as we ran out the gate and to my car. We jumped in and sped off. Luckily she had taken a cab to the club, so she had no car to worry about. We roared out the gate, past the surprised attendant and onto the country road, laughing hysterically and feeling very satisfied that we had found one another and had enjoyed some of the best sex either of us had ever had. .
Escort Girls Frankfurt - Explore Frankfurt to Meet Beautiful Ladies That Could Keep You Company
For those looking for the ultimate thrill when on vacation or a business trip, Fetish Escort
https://www.topescort.de/fetish
can do magic for you. Discover incredible experiences with the Sexiest models.
A lot of Choices for The Best Erotic Massage Frankfurt, Rapid and Trustworthy
Whenever you feel like visiting Germany, either we are talking about a business, trip or a holiday, or even a city break, using the Frankfurt Escort service to enjoy some leisure is always a marvelous alternative. One may think that accessing an escort to keep company is a complicated and hard thing, but we say it's the the other way. Enjoying the Escort Girls Frankfurt page to meet a beautiful chick and spend some sexual moments together is highly facile and reliable. It only takes a few clicks to do that, and the outcome will be aweosme.
Remember you use the right Escort Agency Frankfurt before making the next step. To come as a help, our platform provides several security options so that your private details and your payment info be safe. Also, the girls that offer Escort Girls on our page are carefully interviewed by a team of professionals. Make sure you use the right platform, with the green badge, for the hottest Escorts In Frankfurt experience.
Immediate Selection of Models And The Best Dates
Once you come on the right page, you will like how intuitive and secure every function of this site is. You will get to pick and arrange a meeting with your favorite Frankfurt Independent Escort model in less than a few minutes. Just like the whole land and the people of Germany, these chicks like to be accurate and on point. Each date with a babe from escort any city Germany will be an astounding one. Either you crave for a meeting with a genuine German chick or a different type of Frankfurt Escorts doll, we will make sure to always give you the best results. The best dates await you. No matter the reason or the intention, finding the right model for the right experience will be something highly pleasurable and simple to do.
Begin by navigating the Frankfurt Escort Girl for the right babes. The platform is stashed with hot women, all of them happy to date you. Some are kinkier than others, while some are passionate and sensitive. Select the one that attracts you the most and fulfill your deep wishes along with them. The escort any city Germany platform is rated as one of the hottest in the whole land, in conclusion the experience will be similar. No need to search for other places or other paged, the Call Girl Frankfurt platform will definitely offer you the hottest results in terms of sexy girls to date you. Release your inner dreams and fantasies because these beauties will make sure to please them all for you. Even the craziest sexual dreams can find their tamer with this Escort Girls platform!
https://www.topescort.de/
https://escortnews.eu/escorts/Germany/Frankfurt.html
https://germany.escortnews.com/escorts/frankfurt
https://www.topescort.com/frankfurt
Barcelona escort girls - It should go without saying that sexual activity in Barcelona is not restricted to the city's red-light district or its sex clubs
But there's more to it than simply the party scene. The escort females of Barcelona are just as culturally and historically savvy as the rest of the city. They are well-read and versed in the city's background, and can lead you on a tour of the city's most notable sites. These young women are well-versed in all that Barcelona has to offer, from the Sagrada Familia to the Gothic Quarter.Escort girls in Barcelona do a lot more than just hang out with their clients. Many of these girls also know how to give massages, which can be very relaxing and reviving for their clients. They can also offer a wide range of other services, from dancing to acting to more private activities.
Escorts Barcelona
Moog is the place to go if you're in need of a more private concert. Just 200 individuals can get inside this club in the Gothic Quarter. The club is well-liked by the locals due to the excellent ambiance and cutting-edge electronic music it often features.Barcelona's escorts are among the world's most stunning and skilled ladies. They are masters of seduction and will make your time with them memorable. Escorts in Barcelona are the best option whether you're planning a romantic dinner, a crazy night on the town, or simply want a companion.
Escorts -
https://escortlaradana.net/escorts-from/barcelona/
If you want to make sure that your time in Barcelona is one that you will never forget, then you should consider hiring an escort. They are able to give you with a level of service that cannot be equaled by any of the other suppliers, and they are able to guarantee that you will have an encounter that is both safe and delightful. Therefore, why not make a reservation for an escorted tour in Barcelona right now and take advantage of everything that this incredible city has to offer?In general, Barcelona is a city that has everything you could ever want or need. This colourful and interesting location has something for everyone, whether your interests lie in the arts, history, cuisine, or the beaches. You are sure to fall in love with at least one of these aspects of this place. Therefore, there is no better time to make travel plans than right now if you want to witness the enchantment of Barcelona for yourself.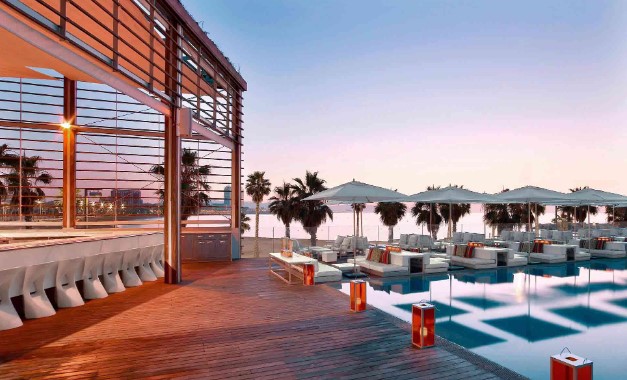 Escorts Barcelona -
https://hotescortreviews.com/escorts-from/barcelona/
For those in need of company, entertainment, and more, an evening with a Barcelona escort girl is sure to be one they'll never forget. You may find an escort girl in Barcelona who will cater to your every want and provide you an experience you won't soon forget, whether you're a native or a visitor. If you're curious about the excitement, why not give it a shot?The Sagrada Familia, a towering church that has been under construction for more than a century, is one of Barcelona's most recognisable sights. The Sagrada Familia, by world-famous architect Antoni Gaudi, is a stunning example of Gothic and Art Nouveau architecture. The inside of the basilica is open to the public and has beautiful stained glass windows and elaborate woodwork.