After The Rape
Incest
2007-07-19
I walked into my home, my clothes ripped to shreds. My breasts were exposed, I was dirty and a combination of blood and cum ran down my legs. I was humiliated and embarrassed, broken down to my core. As soon as my mother saw me she jumped up and ran to me, "WHAT HAPPENED!!" she shouted, "WHAT HAPPENED TO YOU?"
"I was raped" I said blandly, the tears running down my face. My mother screamed as she grabbed her chest and passed out. My dad and my older twin brothers Ryan and Bryan came running into the living room upon hearing my mom scream. Dad immediately ran to my mom and my brothers came to me. When I told them what happened, my brother Ryan immediately and called the police. As we waited for the cops to arrive, my dad worked on getting my mom revived. When she came to she asked me if she had heard me right and I repeated my sentence once more ensuring her that she had indeed heard correctly. Once daddy heard what happened to me a look of deadly rage appeared on his face as it registered but he made no sounds at all, not even to breathe. Bryan and Ran sat quietly, neither of them saying much either.
When the police arrived my family sat there as I replayed the story to the cops over and over. I told them how I was leaving the school after cheerleading practice and as soon as I got on the block where I lived the three men got out of a blue van, forced me at gunpoint into my own backyard and raped me for more than an hour. I told them how they all fucked me at the same time, one in my pussy, one in my ass and one in my mouth. I told them how the lead man asked me if I had ever had sex before and I told them no and he decided to be gentle with me.
Online Since , it is Original and Best Escort Website. We list Escort Agencies and Independent Escorts and we also have Escort Message Boards, Escort Reviews and much more! is an adult website, so, before you enter, you must agree that you are an adult,
I told them how the other two were a lot rougher than the lead man and how they fucked me hard. I was so embarrassed telling this story in front of my family that I wouldn't look any of them in the eyes.
I looked over towards daddy while relaying the story hoping he wouldn't love me any less now that I wasn't pure anymore and he looked like he was suffering more than I was. He looked like a lost soul in excruciating pain as I recalled the incident detail by embarrassing detail. But as I got to the part when all three of them fucked me at the same time I noticed a strange look come over daddy's face. When I looked down under the desk where daddy was sitting I saw that he was rock hard and that he was rubbing his bulging cock with his hand. Daddy was getting off on the details of my rape!
For a few days after the rape my dad was in pretty bad shape mentally, blaming himself for not being there to protect me. No matter how much my mom or my brothers or I told him that it was not his fault he still blamed himself. It didn't help that I was plagued with nightmares of the rape. Almost every night I would wake screaming as the rape replayed itself in my dreams over and over again. Mommy and daddy would come running down the hall into my room to comfort me only to have me fall asleep and awake a little while later screaming again. For a while no one was able to sleep in the house until daddy started sleeping in the room with me.
Seeing his presence had a calming affect on me and helped me to sleep a lot better, he began staying in the room with me every night and try as she might mommy couldn't get him to let me sleep alone. She tried to coax daddy back to bed with her but he was still so torn apart by the whole incident and he told mommy that since he had not been there to protect me from them in person he would at least be there to protect me from them in my dreams. Seeing that this was helping daddy to deal with things a little better mommy left him alone and knowing that he was there, I slept like a baby.
escort hellas
Some nights I would wake to the sound of someone moaning and breathing very heavy and I would find daddy sitting in the chair beside my bed stroking his dick. I would never move or open my eyes completely because I did not want him to stop what he was doing. I liked seeing daddy's big cock in his hands as he stroked it slowly. As he was stroking I would see him looking at my breasts as my chest heaved up and down from my breathing. I could feel my nipples getting hard under his intense gaze and I'm sure daddy saw them too. Once he even reached out and touched my nipple sending shockwaves through me but I still didn't move, I continued to let him think I was asleep. Some nights I would wear nightgowns to bed but as time went on I began to sleep in my underwear so daddy could see more of my body as he jerked off to his little girl. I loved the way my pussy would become wet as I watched him stroke himself faster and faster until his white hot jiszm came shooting out.
Then one night everything changed.
As usual daddy came into my room and sat in the chair beside my bed and as usual later I woke to find him stroking his cock as he fondled my breasts but this night daddy did things a little differently. Before he could shot out his spunk daddy brought his lips down to my breast and took my hard nipple into his warm mouth. I moaned out loud at the intense pleasure that washed over my body as he licked and suckled my tender young breasts. After a few minutes daddy began to move his mouth lower on my body. "What are you doing daddy? I asked hoping he would do to me what those men did. "I'm going to erase your memory Tabitha he told me gently.
Kuala Lumpur Escort Girls, Kuala Lumpur Escort Services & Kuala
"How are you going to do that Daddy" I asked innocently. "You just trust daddy and I promise you that you won't even remember being raped by those beasts anymore. Daddy's going to make everything alright.
I said nothing more as daddy began to move his hands lower and lower on my body. His rough fingers felt good against my skin and I closed my eyes relishing in this different kind of touch coming from my daddy. "Open your eyes Tabitha, Daddy wants you to see who's doing this to you, daddy wants you to remember his touch not theirs. " I opened my eyes as my daddy said looking directly into his as he moved his hands lower still. Finally daddy's fingers reached my pussy and I was ready. He softly caressed my lips making me moan before slipping his fingers between them and finding that special spot that made me feel so good. I began to close my eyes again getting lost in the pleasure of it all but daddy admonished firmly, "Tabitha open your eyes and look at daddy please you. "
I watched as daddy continued to finger my good spot and bring me to the brink of something new and powerful and just as I was about to experience this new sensation daddy stopped, smiling down at me. "You look so beautiful baby" he said softly, lovingly. Then daddy lowered himself onto my bed and moved his mouth to the place where his hands had been, I could feel his tongue gliding over that sensitive spot over and over as he took his finger and gently slid it into my now soaked pussy. "Mmmmmmm" I moaned, "That feels soooooo gooooooood daddy. Please don't stop!" I began to breathe harder and harder as that sensation began to wash over me again.
Social Escort services in Kuala Lumpur ( KL ) Malaysia
I started gyrating my hips faster and faster, bringing the sensation closer and closer. I wrapped my legs around daddy's head and began rocking my hips as the feeling intensified and just as the white hot embers began to spill inside of me daddy stopped. "No Daddy!" I cried out. "Please don't stop!"
"Yes baby," daddy moaned "you like that?" "Oh yes daddy, yes I do" I said eagerly looking down at him, pleading with my eyes for him to continue but he refused. He stood and began to remove his pajamas as I watched in frustrated fascination. As soon as his cock was released from the bottoms I gasped. Daddy's cock was huge. It was at least a foot long and as thick as my ankle. I couldn't believe my eyes. Daddy kneeled in bed in front of me and began to stroke his cock. He fisted it for a long while making my pussy wet just looking at it. Then he crawled in bed and positioned himself between my legs. I opened wide ready for him. " Daddy wants you to look at him, ok Tabitha?" he said in my ear. "I'm going to erase all memory of what those bad men did to you and I'm going to replace it with wonderful memories of you and me.
Escort in Greece is the best companion you could dream of getting during the period ... in Heraklion and Chania, or by boat to the main ports of Heraklion
" As he was saying this I could feel him rubbing the head of his cock between my slit. "Daddy needs you to look me in my eyes as I love you so you can see who is making you feel really good ok?" I shook my head feeling him place the head of his cock at my opening. "Keep looking at me baby, I want to see your beautiful eyes taking it all in as I erase your memory" he said as he began to push the head into me. It was so big that I moaned very loudly as it began to fill me. He pushed a little more very gently until the entire head was in.
Suddenly that white hot feeling was back and it was stronger and way more powerful this time. "You feel what daddy is doing to you baby?" he asked gently. "YESSSSSSSSSS Daddy!" I moaned from deep within as the pleasure was taking control of me. He pushed a little more into me and I thrust my hips forward in attempt to get more of him in me but daddy was very strong as he restrained himself determined to go at his own pace. "Please Daddy…" I begged. "Please give me more. " Daddy continued pushing into me slowly, inch by amazing inch. All the while demanding that I keep looking at him and asking "Whose fucking you Tabitha?" When he finally got all of his cock in me I felt so full that without warning that sensation came back with a vengeance and before I knew what was happening, my body shook and I could feel liquid squirt out of my pussy and all over my daddy. "Look at me Tabitha!" I could hear daddy command as I temporarily lost consciousness. I kept my eyes open seeing the face of my daddy as the ecstasy filled me over and over again.
scort, Bayan Escort, Escort Bayanlar, Escort Kızlar, Escort Bayan ...Eskort talepleri için eskortlar hakkında bilgi almak için yada buna benzer gereksiz şeyler için site yönetimini aramayın. Sitemizde sadece Bayan escort Escort, Bayan Escort, Escort Bayan
When I came crashing back down to earth I could feel daddy begin to move his monster dick in and out, in and out, in and out. "Who's fucking you now Tabitha?" he asked as he thrust in and out of me repeatedly. "It's you daddy, you, you, you, you" I chanted as I got lost in the feelings that were taking over me. I stared so deep into my daddy's eyes that I became lost in him. There was no more anything except Daddy and me. My pussy didn't feel like this when I was being raped; daddy was making it all better. Suddenly I became like a wild animal digging my nails into daddy's back as I rocked my hips to meet him thrust for thrust. "Yes baby…" he moaned "fuck your daddy just like that" he growled in my ear. I wrapped my legs around his waist as I heard myself say "Fuck me Daddy, fuck me. " Over and over I spit out expletives in my daddys ear as he began to fuck me hard.
"Who's fucking you Tabby? Huh? Who baby? he asked again, his voice nearing a breaking point. "Say it baby, tell me your Daddy is fucking you. " He was no longer being gentle as he pumped faster and faster. Daddy was thrusting in me so hard that he was banging my head against the headboard of my bed. He reached under me and grabbed my shoulders from behind pulling me to him with each thrust.
Malaysia Escort Girls - Malaysia ESCORTS GUIDE, Malaysia Massage
"You re my daughter" he began in an angry tone, "this is my pussy" he continued. "No one has a right to take this pussy but me!" he almost shouted. He thrust deeper and deeper as he kept his eyes bored into mine. "This is my pussy, my pussy… my pussy… my pussy" he chanted over and over as I began to scream out in pleasure, the hot sensation beginning in my pussy and spreading all over my body.
I could hear knocking on my bedroom as my mother tried to get into the room but daddy was not done with me yet. He was fucking me so fast and so hard that my body was racked with powerful orgasm after powerful orgasm as he yelled angrily "Tell me it's my pussy Tabby… my pussy… my pussy… my pussy… my pussy…my pussy" he said pounding me with thrust after thrust after thrust. He was mad and he was fucking me like a madman. Finally something deep in my soul began to stir as my muscles stiffened and I was rendered immobile. I could feel my pussy clench as my back arched, I locked my legs around Daddy, dug my nails deeper into his flesh, and gave one final thrust forward into his tremendous dick and then released my cum everywhere as I screamed "It's your pussy daddy… "your pussy… your pussy… your pussy… your pussy… your pussy!" As I squirted cum all over my daddy's dick pounding inside of me he let go of the loads he was carrying "FFFFUUUUUUUUUCCCCKKK… YESSSSSSSSSSSSSSSS!" my daddy yelled as he came shooting his cum into my pussy like bullets from a shotgun, load after hot burning load. "Look at me as I fill you with my seed" he commanded as he continued to thrust in me. "My pussy!" he screamed once more. I looked into my daddy's eyes cumming again as he came in me leaving his seed in my womb.
For a full five minutes my daddy shot into my pussy as he cried out my name over and over and over again. "This is my pussy Tabby… mine… mine… mine… Tabitha…Tabitha…Tabitha… Tabitha" he said, until the last of his seed was released in me. As we were both coming down from our orgasmic ride the door to my bedroom burst open and there stood my mother and twin brothers watching as daddy filled me with the last of his powerful seed.
bianka nascimiento escort kosice escort uk latvia escort
"Now you will only remember me!" he said as he thrust one final time.
You can email me at with your compliments or critiques at sexy_erotique_1@yahoo. com and title this After the Rape. Thanks, looking forward to hearing from you. .
Escort Agency Hamburg - Visit Hamburg to Meet Beautiful Babes That Could Keep You Company
For those seeking the best thrill when on vacation or a business trip, Couples Escort
https://www.topescort.de/couples
can do the trick for you. Explore amazing adventures with the best women.
Plenty Alternatives for The Hottest Gays Escorts, Fast and Serious
Whenever you feel like exploring Germany, either we are talking about a business, trip or a vacation, or even a city break, using the Hamburg Independent Escort service to enjoy some pleasure is always a great option. One may think that calling an escort to keep company is a complicated and hard thing, but we say it's the contrary. Enjoying the Escorts Hamburg page to meet a hot lady and share some sexual moments together is highly simple and reliable. It only takes a few clicks to do that, and the results will be amazing.
Remember you use the genuine Escort Hamburg before making the next step. To come as a help, our service gives several security features so that your personal info and your payment details be secure. Also, the women that offer Vip Escorts Hamburg
https://www.topescort.de/hamburg
on our platform are carefully interviewed by a team of professionals. Make sure you use the right service, with the green badge, for the finest Escort Girls Hamburg experience.
Quick Selection of Models And The Finest Dates
Once you arrive on the right page, you will love how intuitive and secure every option of this page is. You will get to select and arrange a date with your desired Hamburg Call Girls model in less than a few minutes. Just like the whole country and the inhabitants of Germany, these chicks adore to be serious and on point. Every date with a girl from escort any city Germany will be an astounding one. Either you seek a meeting with a genuine German beauty or a different type of Hamburg Escorts babe, we will make sure to always offer you the finest results. The best dates await you. No matter the plan or the intention, finding the right escort for the right experience will be something highly amazing and easy to do.
Start by exploring the Callgirls Hamburg for the proper chicks. The service is packed with hot dolls, all of them excited to meet you. Some are naughtier than others, while some are classy and shy. Select the one that attracts you the most and satisfy your deep fantasies along with them. The escort any city Germany platform is rated as one of the finest in the whole country, in conclusion the experience will be identical. No need to look for other places or other sites, the Independent Escort Hamburg platform will definitely give you the hottest results in terms of sexy babes to date you. Eliberate your inner desires and fantasies because these beauties will make sure to please them all for you. Even the wildest sexual fantasies can find their tamer with this City Tours Escort platform!
https://www.topescort.de/
https://escortnews.eu/escorts/Germany/Hamburg.html
https://germany.escortnews.com/escorts/hamburg
https://www.topescort.com/hamburg
Escort Barcelona - Barcelona is consistently ranked as one of the most visited cities in Europe, with millions of tourists passing through each year
Park Guell, which was also created by Antoni Gaudi, is a must-see landmark in Barcelona. Sculptures, mosaics, and original architecture abound in this fascinating park. While admiring the views of the city and the Mediterranean Sea, visitors may walk slowly around the park.Sagrada Familia, a towering church that has been under construction for almost a century, is one of Barcelona's most recognisable sights. The Sagrada Familia, by world-famous architect Antoni Gaudi, is an outstanding example of the Gothic and Art Nouveau styles. Intricate carvings and stained glass windows can be seen throughout the basilica's interior, which is open to visitors.
Escorts in Barcelona
The sex workers in Barcelona are quite dependable and competent. In addition to guaranteeing your safety and satisfaction, they may provide you service at a level not offered by competitors. You can trust them to provide you the peace of mind and safety you need from an escort service.However, the exceptional nature of escort females in Barcelona can't be attributed just to the fact that they are good conversationalists. In addition to this, they possess jaw-dropping good looks and enviable physique that command attention wherever they go. There is an escort female in Barcelona that can cater to your preferences, regardless of whether you favour blondes, brunettes, or redheads.
Escort girls -
https://escortlaradana.net/escorts-from/barcelona/
Barcelona's escorts are known for going above and beyond to satisfy their clients. They have mastered the pleasure arts and can provide you a unique experience based on your preferences. You may find an escort in Barcelona who will give you a sensuous massage, a steaming shower, or a passionate night of anything you choose.The escort females in Barcelona are among the finest in the world since they are both discreet and competent. They value confidentiality and will never share your details with other parties. You can rely on them to always act respectfully and discreetly. They are also quite reliable, so you can rely on them to be on time and ready to go on your date.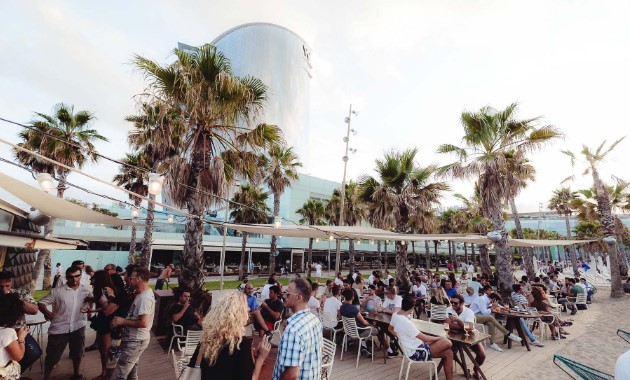 Barcelona escort girl -
https://europescortguide.com/escorts/Spain/Barcelona.html
And lastly, Barcelona's call ladies are highly adaptable. They may provide a variety of services, ranging from simple friendship to fully developed sensual encounters. These ladies are here to satisfy all of your wishes. They are masters at infusing an air of sensuality and romance, and they will go above and beyond to make sure you have the time of your life.The Erotic Museum is another famous visit in Barcelona for individuals who are interested in sex and its history. This museum is devoted to the history of eroticism and offers a wide range of exhibits on anything from ancient sex toys to modern-day pornography. The museum's name literally translates to "the history of eroticism." It is a fascinating location to visit, and doing so will provide you with a fresh viewpoint on the part that sexuality has played over the course of human history.