/

Incest

/

Brother visits Sister at College Part 7
Brother visits Sister at College Part 7
Incest
2004-10-28
Brother Visits Sister at College Part 7  
The long awaited part 7 of the series.   Brian gets his going away present, or should I say presents…  
            I just stood there in my nakedness watching Brian get dressed.   I watched him put on a blue button up shirt, boxers, and his favorite pair of jeans.   I told him then to get out, because he wasn't allowed to see me get dressed.   What I was going to wear was going to be a surprise.     I dug through my drawers to find my special pair of underwear, a matching black thong and bra set.   They were both very skimpy, and barely, but not always covered what they needed to.   All the bra did was support my breasts, it didn't really cover anything.  
            I put normal clothes on top of my underwear.   I slipped into my favorite jean skirt (it came down to just above my knees) and then a white spaghetti strap tank top, and a blue collared shirt. The shirt fit me very nicely and did a good job at showing off the curves of my upper body.   I left the buttons unbuttoned so you could see the white tank top underneath.   (You know those shirts girls wear where they leave the buttons unbuttoned, but you can see the white shirt they have on underneath… Yea, that's what I was wearing. )  
            I grabbed the other things I would need for the night, and put them in the backpack with Michelle's stuff, which she had sat in my room.   I put on a little bit of makeup, did my hair, and do all those other fun things that girls do to get ready to go out.  
            When I finally finished, I grabbed the backpack and headed off to find the rest of the gang.
escort
  I headed down the hall to Michelle's room to see if they were in there.   I opened the door and found them in there.   They were just sitting down watching some television.   Michelle was absolutely stunning.   She was dressed in a red spaghetti top over a white one, with a black skirt covered in colorful flowers that went down to her calves.   She had her hair all done up, nice and smooth shoulder length brown hair with some faint natural highlights, she looked very hot.  
            "Well, you guys ready to go?" I asked.
            Brian looked over at me and asked, "Where we going?"
            Michelle just patted him on his leg as she got up and said, "Come on, you'll like it.   I promise. "
            We both went and stood at the door, waiting for Brain to join us.   We didn't have to wait long, he joined us pretty quick.   We then all walked out to Michelle's car, got in and started the drive to our destination.  
            It took us about 10 minutes to get to our destination, but we soon reached it.   We pulled into a parking lot of a strip joint.   This wasn't just any strip joint though.
Greece Escorts Athens Escort City Tour
  Both Michelle and I both knew a couple girls who danced here, and we also knew the bouncer at the door.   He owed me a favor. (we won't say why he owed me a favor, you'll just have to wonder)
            Earlier that day I called him up to cash in the favor he owed me.   I was cashing in my favor for a private room in the club for our party tonight.   Michelle and I also called up our friends that we knew danced, to see if they were available for tonight.   A few of them were working already, and said they would drop by during a break or something, and those that weren't were willing to help us out.   We were telling everyone that this guy was an old boyfriend of mine.   Only Michelle and I knew the truth that he was actually my brother.  
            Brian had a half smile on his face, after all, he thought that his sister and her hot friend were taking him to a strip club.   He was partially right, we were taking him to a strip club.   His eyes about popped out of his head when we walked inside and he saw the lack of clothes, and just the general atmosphere.   As soon as we got in the door, Michelle snatched the backpack from me and excused herself to the bathroom.   I grabbed and held Brian's hand so we would continue our journey through the club to the door on the other side.   I opened the door and led us in.    
            In the room was a private stage with two poles and some seats all around.
VIP Full Service Escort Agency in Greece, Athens, The Best Greece Escort Girls, Athens Escort VIP and Luxury Girls.
  There were a couple of girls already there sitting down, enjoying some drinks.   (there were a couple of girls who when they heard about the plans, wanted to be part, so we allowed a few of them to come. )   I introduced Brain to the girls, and he was definitely shocked by the whole situation.   We sat him down in a chair, with me on one side, and one of my friends on the other.   Not too long later, the lights dimmed in the room, and came up on stage.  
            The cheesy dance music that these clubs play for people to dance to started up and a short time after that, the curtain parted and Michelle emerged out onto the stage.   She had changed clothes and was wearing a very sexy outfit.   I think both Brian and my mouths dropped at the same time when we saw her.   She was wearing black high heal shoes, and sockings that attached to a garder belt, and she was wearing a completely transparent piece of white lingerie.   It fit her like a sock and enabled us to see everything.   It had two small spaghetti straps over her shoulders, and then in between her legs, were three snaps for easy access to her pussy.  
            She started walking down the runway with a walk like a model.   She was making absolutely no effort at all to hide herself from us.   She stared right at Brian as she walked towards him with a seductive look on her face.   I looked over to Brian to see what his reaction was, and just as I expected, it was one of pure shock.
AthensElite Ellinika Athens Elite Ellada Escorts Athens Greece
  She walked right up to the edge of the stage where Brian was sitting and she bent down so she was bent at 90 degrees at the waist and then shook her chest.    
            The lingerie she was wearing was doing absolutely nothing to contain her breasts.   They shook like they were hanging free.   She grabbed her breasts, all while still looking into Brian's eyes.   She pushed them together, then pushed them up towards he face, and all while still looking at him, stuck out her tongue and licked them through the fabric of her lingerie.  
            She stood back up and turned around and stuck her ass out at us.   We could clearly see the buttons to undo to expose her pussy, and we could also see her cleanly shaven pussy through the fabric.   She reached out and grabbed the pole in front of her, and started swaying her hips to the music.  
            With her ass still in our face, she licked one of her fingers, and trailed it down her chest and stomach and to her pussy.   She reached under her legs and ran her finger through the slit between her pussy lips.   We could see her juices getting on her fabric of the garment she was wearing.   She worked her finger around a little bit before she started to push it in her pussy.   The fabric was tight, but it gave way a little bit to allow her entry.  
            She fingered herself for a little bit before stopping and standing up.   She walked over to the pole and up an arm around it.
Female escorts directory Greece Escorts
  She looked over at Brian, then leaned against it, positioning it between her breasts and squeezing them together.   She moved up and down the pole with her breasts wrapped around it.  
            I could see a bulge growing in Brians pants.   He began to shift, trying to find a more comfortable position to sit in.   I reached my hand over and placed it over his hard on.   He stopped moving and looked up at me.   I just smiled at him, then brought my other hand over and began to undo his pants.   I undid his button and zipper and reached inside and brought his hard dick out into the open.   I then continued with one hand to slowly stroke him as Michelle continued the show.  
            Michelle was riding the pole like a pro now.   She was dancing all around it, climbing up it part way, wrapping herself around it, and the sliding back down.   She unbuttoned the lingerie between her legs and pulled it up a little bit exposing her pussy to us.   She began then to hump the pole.   She would grind her pussy into the pole.   At one point she even wrapped her legs around the pole, picking them up off the floor, and just hung there in mid air fucking the pole.
HellasEscorts city tours in Thessaloniki and Athens
            Just as Michelle was calming down, another girl emerged onto the stage from behind the curtain.   This one was dressed in a silk nighty looking thing.   The obviously thing fabric just cane to above her tits, which by the way were 38DD, they were big.   (I only knew this because I knew the girl.   She was an employee at the strip joint here, and was taking time off of her break to come dance for us. )   She was a friend of Michelle's and I, so we knew her quite well, (and her body too!)  
            The silk nighty she was wearing came down to barely below her pussy, you could sometimes see it when she walked, the nighty rode up that much.   Michelle just stood there, with the flap at her pussy still undone, watching Tanja walk towards her.   As soon as Tanja got to Michelle, she put her hand down to Michelle's wet pussy and slipped a finger right inside.   Michelle moaned out right away when this happened, and it felt like Brian's dick got about 3 times as hard in my hand.   There was something about watching Tanja's finger just slip right inside of Michelle.   We all sat there and watched as the girls kissed and Tanja finger fucked Michelle.  
            All this action right in front of my eyes was getting me really worked up.   I could feel my body temperature start to rise, and it felt as if my clothes suddenly got two sizes too small.   My pussy was starting to get wet, and it felt like a vacuum that just sucked my thong right up into it.   I had my legs crossed, just like any self respecting girl does when she sits down in a skirt, but it was just starting to be too much for me, so I had to un-cross them and sit there with my legs apart.
escort service europe ruslana escort paris milan roxana demon
  I could instantly feel the temperature between my legs drop. 
            I think Brain noticed my shifting in my seat, so he reached over with his hand and put it up my skirt.   I felt it go inside my panties.   I tensed up immediately when he hit my cilt.   I felt him start to move the panties aside and start to pull them off.   I shifted a little bit in my seat to allow him to get them off.   He pulled my thong down my legs, and I assisted him in getting off of my ankles.  
            I cannot tell you how good it felt to have my thong off.   I spread my legs as far as they would go, and even hiked up my skirt to allow them to spread farther.   So there Brian and I were sitting next to each other, his dick out of his pants, my hands all over it, and my skirt up at my waist with his hand rubbing my pussy.  
            Meanwhile, Michelle and Tanja and gotten more intense.   Michelle was sitting on the stage with her legs spread propping herself up with her elbows, Tanja was in between Michelle's legs eating her out.   Sometime in the process of removing my thong, Tanja had also lost her nighty, as it was laying in a pile on the stage.  
            We sat there and watched Tanja eat out Michelle.   She was switching between her tongue and her finger.
gabriela escort lucrezia escort escort tube submissive girls escort girls in thessaloniki russian escort milan aphrodite agency
  Michelle was obviously enjoying it, because she started moaning and bucking her hips.   Tanja's ass was at an angle to us, but her pussy stuck out and was clearly visible.   We could tell she was wet, because we could see a clear trail of something wet running down her legs.  
            Michelle leaned on one of her arms, and brought the other one up and started playing with her breasts, tweaking her nipples and rubbing them around, trying to pleasure herself even more.  
            My friend Ted, (from story 2) also came along with us to the club.   He decided to take advantage of this situation.   He was already hard, (I don't know anyone in the room who wasn't at least somewhat horney by this time) so he simply stood up, took off the remainder of his clothes, and then proceeded to climb up on stage.  
            Michelle saw him get out of his seat, strip, and start to climb on stage, but Tanja was too caught up in eating out Michelle to notice.   She did notice though when he kneeled behind her and took his dick and pushed it in her wet, open, inviting pussy.   She moaned out when he entered her, and she stopped what she was doing and looked behind her at Ted kneeling behind her.  
            Ted placed his hands on her hips and helped guide her oh his shaft.   Not that she needed any guiding, but he still did it.   She now concentrated all her attention onto riding Ted's dick.   She stayed there on all fours on the floor and turned her head so she could see and watch herself getting fucked.   Her movements were opposite   to Ted's, meaning she was moving one way, when he was moving the other, so that each time they met, she was impaled as deep as possible.
paula escort esxort tours of rome eskort girls ts daniela jolie eskortnews
            We all sat there and watched Ted fuck Tanja.   Both Brian and I were enjoying the show, and were taking it out on each other.   I was rubbing his dick harder and faster, and he was fisting me harder and faster.   He leaned over to me, and whispered in my ear, "I want to fuck you right now.   I want to feel my dick inside your pussy. "    
I smiled and leaned over to him, "Don't worry, don't you dare think I'm letting you get on that plane tomorrow with out fucking me one last time.   But for now, why don't you hop on up there, I think Tanja is missing something in her mouth. "  
            Brian looked at me with a shocked look on his face. "You mean with all these people here?"  
            I winked at him, "Yea, go for it, see what happens. " And with that I took my hand off his dick.   He paused for a moment, then stood up, stepped out of his pants and took off his shirt.   His dick stood straight out attention.   A few gasps and whispers could be heard from the other girls in the audience.   I looked over at them, smiled and licked me lips.   They just giggled.
escort bayan
            Brian climbed up on stage and walked over to Tanja and Melissa's end.   Melissa was fingering herself and playing with her tits.   She just smiled at Brian as he approached her.   She scooted over to give him room.   Brian knelt in front of Tanja, and held his dick straight out.   She took the hint (and was happy to) and wrapped her lips around his dick and started to blow him.  
            I think Brian underestimated the skill she had at this.   After all, she did perform in sex shows for a living, but as soon as she wrapped her lips around his dick, his head and eyes rolled back and he let out a moan.   His eyes remained closed as Tanja worked on his dick.   You could clearly see by the expressions on his face that he was enjoying his blow job quite a bit.  
            He began to move his hips, out of instinct I'm guessing, to the rhythm Tanja was setting with him.   There was a point where she stopped, pulled it out of her mouth and held it in her hand.   Brain was confused and looked down at her, she just looked him in the eye and then stuck out her tongue, and without breaking eye contact, started licking his head and shaft.   She would work his hand and start pumping him too.  
            It was actually kind of interesting to watch her.
  She really had some skill and it was pretty obvious that she wasn't leaving anything out when it came to giving my brother this blow job.   I was getting really worked up watching this and started rubbing myself.   My friend saw this, and came over and held my hand to stop me, and then looked me in the eye.   I pulled my hand away and let Cait start to lick me and eat me out.    
            Cait was another friend of mine that I had just met here at school this year.   She was another frequent visitor to my room and partner of Michelle's and mine.   Cait could offer us something no other girl could, but more on that later.   I was focusing on this pretty dirty blonde as she worked on my pussy.   Cait really was a beautiful girl.   Her straight dirty blonde hair reached to her mid back, her tits were the size of two oranges on her chest, and she really did have a nicely formed body, although it was a little slinder, it was still very hot.  
            She was wearing a skin tight navy blue shirt and a tight pair of jeans.   It really was a pretty site to see this girl working at my pussy with her mouth.   She was really good eat eating out pussy.   The fact that I was already horney from watching the show up on stage wasn't helping much either.   Within minutes, she brought me to an orgasm.
escort
  I felt my body start to quiver and tremble, and I moaned and screamed out as my pussy exploded onto Cait's face.            
            After I was able to breath again, I looked up on stage, and saw that Brian had lasted just about as long as I did, and he was cumming on Tanja's face at about the same time Ted was shooting his load into Tanja's pussy.   When they were finished cumming, the two guys just kind've collapsed onto the stage.  
            Tanja grabbed Michelle and pushed her down on the ground and climbed over her.   She planted her pussy in Michelle's face and brought her face down on Michelle's pussy.   Michelle started to lick Tanja's pussy and lick all of Ted's cum that was coming back out, as well as stick her tongue deep inside and scoop out tongue fulls.   Tanja was performing pretty much the same thing on Michelle's pussy as Michelle was performing on Tanja's.   The only difference was that Tanja was putting Brian's cum into Michelle's pussy.  
            We all sat there and watched these two girls eat each other out, then I stood, up, stripped down so that the only thing I was wearing was a bra, then I climbed up onto the stage.   The other girls started cheering when they saw that I was going for Brian.   I had sat here for a while and watched other people have sex and watched Brian go at it with other people, but my craving for Brian right now was so bad, I wanted to fuck him like he or I had never been fucked before.   Right now, I wanted the rest of our lives to be one love making session.   I wanted to live the rest of my life with him impaled in me.   All I wanted to do was feel his dick inside of me and show him how much I loved him.  
            I walked over to Brian, who was laying on the floor and sat down, strattling his stomach facing him.
Greece Escorts Athens Escort City Tour
  I looked at him and smiled saying, "My turn to have my way with you. "   With that I leaned down and planted his face firmly between my still bra clad breasts.   I pushed in on them from the side, then leaned up, and pushed them together as much as I could and leaned back down on his face.   I could feel him start to kiss and lick my breasts.   I reached behind myself and undid the clasp on my bra, and pulled my arms out of it.            
            I leaned up then, leaving my bra on his face and let him stare at my tits again.   I grabbed my bra and threw it off to the side and leaned down one more time squishing my breasts into his face.   I could feel his dick start to get hard and poke at my ass.   Cait then climbed up on stage, in her jeans and bra (she had taken off her shirt) and went behind me.  
            Brian didn't see Cait, all he felt as he was staring at my tits and body was someone grab his dick, start to jack him off, and then a something wet go around it.   I continued my teasing of Brian, whose primary purpose was to hide who was giving him a blow job from his eyes.   I started rubbing my pussy and its juices all over his stomach, and his hands came up and started playing with my breasts.   I could tell by his motions and his distractions from playing with my body that he was getting close again, and I signaled Cait to stop.   She did, and I stood up a little bit, just enough to scoot back to his dick, which I grabbed and sank into my pussy.  
            I cannot describe how good it felt to have him inside of me again.
VIP Full Service Escort Agency in Greece, Athens, The Best Greece Escort Girls, Athens Escort VIP and Luxury Girls.
  I sank myself as deep as I could and just sat there with my eyes closed absorbing the feeling of having my brothers dick sunk deep inside of me.  
            Cait emerged from behind me and started planting kisses on Brian's legs.   She moved slowly down towards his dick, and started kissing and licking where it was entering my pussy.   This was the first time that Brian laid eyes on Cait.   He looked at her, shook his head, and said, "Damn Sis, do you have a friend that isn't hot?"   Cait just smiled at him and began kissing up his stomach, giving him an excellent shot of her breasts in her bra as they hung beneath her.  
            I began to slowly fuck Brian, moving up and down on his dick.   Cait was kissing up his stomach, dragging her tits along his body as she worked her way up.   She eventually reached his face, and they started kissing and making out.   Her hands were running all the way up and down his body, including grabbing his dick as it emerged out of my pussy.   He wasn't missing the chance either, and was feeing all over her body, her back, her ass, her tits. 
            Brian laid there making out with Cait, as he fucked me.   Cait broke the kiss and moved her breasts up to his face where she let him do what he wanted, feeling them, kissing them, licking them.  
            His hand was starting to try to work it's way inside of her pants.   She looked at me and I just smiled.
AthensElite Ellinika Athens Elite Ellada Escorts Athens Greece
  I was feeling Brian start to get tense, and knew he was nearing his orgasm, so I quickened my pace, hoping to get him there faster to help him get Cait's pants off.   I quickened the pace I was fucking him at.   Cait knew what I was up to (we had kind've planned this out ahead of time) and grabbed his dick and started pumping it as I worked myself up and down.   Sure enough, not too long later, he reached his orgasm, and I felt him shoot load after load of hot cum into me.  
            After his orgasm subsided, I waited a couple seconds, then climbed off as his dick started to go limp.   I crawled up next to Cait, next to Brian, and I started toying with her waist line, hoping he would take the hint and start to go for her.   He eventually got the idea, and took over where I left off.  
            Cait just laid there next to him on her side looking at him, as he slowly felt her ass and hips and worked his hand inside her pants.   Together, they slipped her jeans down to her knees.   He placed his hand on her stomach, and then slowly slipped it down the front of her panties.   He quickly brought it back out and had a scared look on his face.   I just started to laugh.   Cait started to take off her jeans the rest of the way.               
            "What's the matter bro?   Not what you were expecting?" I said smiling.
            "What the hell was that?" he asked.
Female escorts directory Greece Escorts
            "Well, you see Cait here is about half and half.   She is a girl, is really cute, has great breasts," I reached out and shook one, "But she also has a dick. "   And with that I reached down and slipped her panties down.   Her dick popped out then.   It was about 6 inches long, kind of crude looking, and it was fairly hard.   I reached out, grabbed it and started to stroke it.  
            "You wanna know why this is so good?" I asked him.   He just kind of nodded.   "It's good because I can get fucked all I want by a dick and never have to worry about getting pregnant, because she doesn't have any sperm!   Would you like that brother?   Would you like to see your sister get fucked by a she male?"   He nodded dumbfounded by what was going on.  
            "You see, in my opinion, she has the best of both worlds.   She never has to worry about periods or getting pregnant or anything like that, AND she has a dick and hot ass tits.   What could be better.   Get to play with your own breasts when ever you want, and get to fuck girls. "  
            With that, I brought my face down and engulfed Cait's dick in my mouth.   I started bobbing up and down on it.
HellasEscorts city tours in Thessaloniki and Athens
  I looked over at Brian and looked him in the eyes.   The look on his face was of pure shock.   He couldn't believe this.   I looked back down and was concentrating on what I was doing.   I brought my hand up and started grabbing Cait's breast to massage it.   Cait just leaned back on her arms and enjoyed what was going on.  
            Looking at her, you would never have guessed she was a she male, she had a great body.   Her breasts were a high 'B' low 'C' cup, and her figure looked just like any other girl you would see on the street.   She shaved her legs, and every bit of hair below her waist, she had long flowing thin brown hair, and beautiful brown eyes.    
            When I first met her and flirted with her, I thought she was just another girl I could share my bisexual desires with, but when we first climbed into bed, I found out about her secret, and since then we remained close.   I loved the female body, and playing with it, but I also loved dick.   She had the best of both worlds, breasts and a dick.   While her dick wasn't as pretty and perfect as a guy's, it was still a dick, and she could still fuck with it.  
            I continued to suck on Cait, and give her a blow job for our audience, and especially my brother.   Tanja had to get back to work, so she had picked up her clothes and left somewhere in the midst of everything that was going on.
escort service europe ruslana escort paris milan roxana demon
  Michelle was watching me now, and watching Brian, and was getting a kick out of his reaction to all this.   She decided to go over and sit next to him and enjoy the show.  
            I was holding onto the base of Cait's dick and was licking the length of the shaft.   I stopped using my hand on her breast, and to make up for it, she had brought one of her hands up to accommodate.   Michelle pushed Brian our way.   Cait just looked up at him with her lust filled eyes and I think he got the idea what she wanted.   It seemed as if the initial shock of her being male on the bottom and female on the top had worn off.  
            He made his way over and laid down next to her, put his hand on her stomach, and leaned in and started kissing her.   She immediately started kissing him back.   With tongue I might add.   They laid there swirling tongues as I continued to suck on her dick.   Marlena moved down and positioned herself between my legs.   I opened them up, allowing her access.   She moved in and started to lick and suck on my pussy.  
            Cait's and Brian's hands were starting to roam.
gabriela escort lucrezia escort escort tube submissive girls escort girls in thessaloniki russian escort milan aphrodite agency
  Her hands were moving up and down his chest, and down to his dick, which was beginning to show the first signs of becoming hard again, and his hands were moving up and down her stomach, and of course, spending most their time at her tits.  
            Her hands went from just grazing his dick back to giving him a full hand job as he started to grow in her hand.   Their kissing stopped, and all their attention went to the hand job she was giving.   She slowly moved her hands up towards her mouth, then without warning attacked Brian.   He went back to his being utterly confused state.  
            Just because she was a she male, didn't mean that she wasn't experienced.   Guys didn't need to know what she had.   All they knew was that a hot girl was willing to give them hand jobs and blow jobs, and that's all they really cared about.   Brian strattled Cait so that she could easily blow him.  
            I was starting to get really horny and wet, and I wanted to fuck Cait, or Cait to fuck me, how ever you looked at it.   I pushed Melissa away and stood up and moved up to position myself close to her dick.   I strattled her, facing away from her face, Melissa grabbed her dick and held it straight up and down, and I slowly lowered myself onto it.  
            I started to bob up and down on her dick.   Melissa was holding onto the base of the shaft and would stroke it and lick it as I bobbed up.   She was also grabbing my tits as they shook from my motions.
paula escort esxort tours of rome eskort girls ts daniela jolie eskortnews
  So there we were on stage, one giant group fuck.   Cait was blowing Brian, I was fucking Cait, Melissa was playing with both Cait and I.   We laid there fucking for a while before I felt myself reach an orgasm, and started to cum as Cait continued to fuck me.   As I cummed, I collapsed over to the side and watched them continue.   Michelle wanted some too, so as soon as I cleared the area, she hopped on and impaled herself on Cait's dick.   It was obvious that it wasn't going to last too much longer, but Michelle wanted to be part of the action while there was still action to be part of.  
            I laid there now and watched Michelle fuck Cait, and Cait continue to suck on Brian.   Not too much longer, and Brian started to make sounds that told me he was nearing his orgasm.   Sure enough, not too much longer, and Brian yelled out and started to shoot load after load into Cait's waiting mouth.  
            With Brian's orgasm here, things calmed down quite a bit.   We all just kind've collapsed to the side and laid there on the stage recovering.   I looked over at Brian and he just smiled at me.   "So, what did you think of your going away present?" I asked him.    
"I never would've believed if you told me 4 days ago that I was going to fuck my sister and a bunch of her hot friends. "  
            "Yea, I never would've believed it either, but I'm glad it happened.
escort bayan
" I said winking at him.  
            He smiled back at me, "Yea, it worked out good. "    We laid there a couple more minutes, then started to get dressed and gather all of our things.   I just put on my shirt and my skirt, I didn't put on any underwear.  
            Once we got to the car, and were driving back.   I started rubbing his dick through his pants until it got hard, then I pulled it out, took off my clothes and climbed on top of him.   All the way home, I sat on his lap and rode him.   We were clearly visible to passing cars, but I didn't care, I just looked most of them in the eyes and smiled and waved.   We got lots of honks and cheers.   I didn't care if people saw us, he was my brother and he was leaving in the morning, I was going to miss him.   I was just being a good sister and looking out for both of our interests.  
            I don't think I need to explain or go into detail about what happened that night.   It was just me and him alone.   It was a long night of slow, passionate love making.   I didn't get a wink of sleep, but that's ok, except for the soar pussy and leg muscles, the pleasures and memories he left me with were amazing.
            Watching him leave in the morning was one of the hardest things I had to do.   My brother, now turned my lover was leaving me and was now headed back home.   The events that transpired over the last 4 days were amazing, and never in my wildest dreams did I imagine that they would've happened.   I'm glad they did happen though, now that means when I go home, I'll have some waiting for me.   In a very convenient spot, right in my own home, just down the hallway.  
I couldn't help but to think about what it would be like once I headed home.   Would it be the same, or would we be back to being brother and sister with this just being a one time thing.   I couldn't help but hope that it continued.
.
https://www.6guide.be/
is the top online escort service in Belgium!
Belgium call girls can turn you crazy
Why do people think that it's too hard to find escort models in Belgium? Belgium may be small but it is packed full of attractions and stunning barbies. Visiting our website, you can admire skinny cuties and hot to trot temptresses, redheads and blondes, alt girls and modest misses. All of them have their own special skills and features. You can always contact the call center that supports all clients. It works non-stop. Just say what you need from a lassie, describe a absolute female body and they will find an appropriate model from the huge list.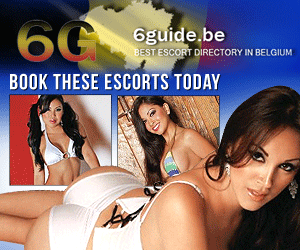 You choose where to have a date with your escort girl. It can be a walk around a Belgian town, business meeting, party, blind date in a restaurant or anything else. If you're here for the ancient or modern history, and tranquil canals, you may need an intelligent partner. Our nymphos will be glad to keep you company during your trip. When coming to Belgium, you should see Cathedral of Saint Bavo in Ghent, and some other touristic attractions. Follow the
call girls in brussels
to admire the best escort models that can't wait to see you in Belgium. All of them are able give you caressing of your tastes.
All the top Belgium escort agencies on one website
Belgian escort agencies do a great job and provide their customers with the top-class escort services in this country. If you want to call a babe, please, contact the agency and inform about your plans beforehand. It will guaranty that your call girl will be ready. They are skilled enough to give you erotic massage that will make you happy and help get rid of stress. You can enjoy the sexual entertainment, too. Romantic lassies with elegant body forms can demonstrate you what a real passion means. When using services of escort in Belgium, you can be sure of the professionalism. First of all, you should know that confidentiality is the most important thing in this business. Our clients are worried about their business reputation or relations with their spouses. We understand it and do all that is possible to keep your meeting with an escort chick in secret. You can call a lady vamp to your own house, a rented apartment, hotel room otherwise we can provide you with a good place as bonus. Feel like a successful gentleman for one day or more thanks to our excellent escort girls. You should not lose such a possibility. If you are lonely – you need a captivating nympho. If you have a wife, she will never know about your time-spending. This is the high-class Belgian escort agency with fabulous dames for all tastes.
namur girls escort
is cool source of real pleasure. When you have fun with our call girls, you become absolutely happy and nothing can make you upset or unsatisfied.
Escort girls
Escort girls -
bulgaria city tours
Escort Yokohama
Amazing dates with hottest escort girls of Malta on
https://escortnews.eu/escorts/Malta
!
Perfect call girls from the top-class agencies in Malta!
Malta is a Southern European island country where you can meet many feisty escort models. This country is a well-known tourist destination with a nice climate, numerous recreational areas, and architectural monuments. You'll be happy to be accompanied by an impressive doll while visiting Casa Bernard, and St. John's Co-Cathedral.Our online service of escort models in Malta needs your attention. When gentlemen are looking for sexy babes that can cheer them up and please to the full, they use this website. Check the long list of the most impressive escorts in this place and pick one. One of them can pleasure you tonight. Does it sound fantastic? Everything is real. Malta escorts will show you the amazing happiness! Skinny flirts with breathtaking curves and gorgeous faces are ready for everything. Check their profiles to choose the best one. Age, language, and contact information are all you need. You'll be glad to meet one of them or all of them one by one. These hotties are so close to you. Let one of them know that you are interested in a date. When your hurt tells that you need to meet one of these sensuous damsels, you should listen to it.
https://escorthub.org/escorts-from/malta/
gives you a possibility to change your life and meet babes that cannot be forgotten.
The high-class escort agencies in Malta on one site
Malta escort agencies give you all information about top cuties. These data is very useful when a user is looking for such extreme time-spending like domination, pissing or some other fetishes. Fulfill all your dreams thanks to
https://escorthub.org/escorts-from/malta/
. It is not easy to find an appropriate sexual partner in real life but this online service gives you amazing opportunity. Smoking-hot, smart, and uninhibited bimbos can't wait to please you and have amazing fun together.If you want to get served by two call girls at once, our agency will find two stunners who work in a team. New damsels and new tours appear on the website every day. Nice cuties are ready to meet you and give all necessary pleasures. Males use escort services very less. Most of them think that it is too much for them. This isn't true. If you want to see ravishing sexpots close to you, this wish should become true Most of all escort girls of Malta do their work on a high level. You should experience it if you come to this amazing country. All useful data is
https://www.topescortmalta.com/