Fucking my step-mom
Lesbian
2009-12-20
This story is not true and 100 percent made up
My dad's girlfriend, Melissa had finally moved in with us. My mom was furious about their relationship. My parents had gotten divorced almost a year ago. Neither of them explained why, but I knew it was because Dad finally stood up to my Mom. Mom thought she had complete control over him until one day he kicked her out of the house. It turned out that Dad was having an affair with Melissa, a 25 year old teacher at an area high school for over a year, and he couldn't take being bossed around anymore.
I was angry at my father for breaking up my parents. Dad got custody since he made a far greater amount of money than Mom. Once Dad just custody, I finally got to meet Melissa, she was a bombshell. She had brunette colored hair, with blonde highlights, a great ass, and a great set of boobs, probably a large C-cup. I went and visited Mom and told her about Melissa. Mom was very upset and I gave her a hug. Mom was still a great looking lady, for being 44. She had curly blonde hair, a big ass, and a set of 34D's. Unfortunately, I didn't have any of her traits. I was 18, had curly brown hair, an athletic body with a small, but tight ass, and a pair of perky 34B's.
Luxury escort services in Greece. Beautiful girls to escort you and fulfill all your desires.
When I told Mom that Melissa would be moving into the house next month, Mom told me she had a plan. I quickly drove over to her house and Mom let me in. Mom went into her room and came back out carrying a large black strap-on, "Mom" I yelled, "where did you get that. " Mom just chuckled, "A porno shop, Grace" she said. "I got it a month ago and I thought I would find Melissa and shove it inside her" Mom explained, "but I think you can do better" she said, handing me the strap-on. It was the first I ever held, it was decently thick and probably a good 8 inches long. "What do you mean" I asked. "Well honey" Mom answered, "as you probably know, I owned your father. Anything I wanted, he would do it. He was by bitch. Now I want you to make Melissa into your bitch. " I looked at my mother, "how am I supposed to do that, I'm not a lesbian. " "It doesn't matter" Mom explained, "it is quite fun and your father will be destroyed and he may even give me custody over you. " I agreed to the idea and Mom filled me in on the rest.
A couple of weeks after Melissa moved in, Mom told me to go ahead with the plan.
Greece Escorts, Attica Escort Models Greece Girls
Dad had gone back to his long work hours, so Melissa and I had the house to ourselves for a couple of hours. I usually got home about 10 minutes before Melissa, so I had time to get ready. I got completely naked and put the strap-on as I heard the front door close. I waited for a couple of minutes before I walked downstairs, "oh Melissa" I yelled when I got to the bottom of the stairs. "Yeah, Grace" I heard Melissa say from the kitchen. I walked into the kitchen and saw her standing behind the counter looking through the mail. "Grace what the fuck are you doing" Melissa asked nervously. I walked around the counter, "making you into my bitch" I said. Melissa was frozen with her eyes popped out, staring at the strap-on. I grabbed Melissa's modest black skirt and yanked it down, "Grace don't do this" Melissa pleaded. I turned her around so her ass was facing me and pulled her pink thong down, "I know you fucking want it" I said sternly and pushed the strap-on inside her pussy. "Oh fuck" Melissa screamed. Melissa was very wet, so I had no problem pushing more of it in, "you fucking love this, don't you slut" I screamed at her. Melissa moaned a little bit before saying, "I do… I fucking love it. " I pumped the rubber cock in and out causing Melissa to yell loudly, "you fucking whore" I yelled, "take that cock.
escort independent My personality is upbeat and I always find the absolute best in people. You will find me to be very sweet and confident with a great sense of humor. I am very down to earth and am the kind of girl you can feel at ease aroun
" "Don't fucking stop Grace, don't fucking stopppppppp" Melissa yelled while cumming.
I continued to pound her pussy and Melissa kept on begging for more, "you like that slut" I asked, "is it better than my Dad's cock. " "Yessssss" Melissa yelled, cumming again. I was extremely turned on by making this woman my slut and I fucked her even harder. "Ahhhhhhh" Melissa continued moaning, "this is crazy, so fucccckkking greattttttt" she came for a third time. I stopped and Melissa rested against the counter, "please no more" Melissa begged. I leaned up against her and slapped her ass, "Melissa, you are my slut now" I told her, "do you understand. " Melissa said "yes", "you're my fucking bitch and my Dad no longer fucks you, got it" I said sternly. Melissa told me yes and I pulled the strap-on out of her soaked cunt. "Good" I said, spanking her ass, "now, clean off this cock" I demanded.
Melissa dropped to her knees and took the rubber dick in her mouth. She sucked like a pro. "That's right bitch, clean it all off" I said grabbing her hair. Melissa moaned and started to deep throat the cock. I let her suck on the cock for a couple of minutes and I told her to get up.
Independent Escorts in Greece NADIA VIP ESCORT Nadia is a glamorous Athens Escort girl with a fabulous body, a sexy innocent smile, and a truly naughty personality. She loves stripping off on your eyes and we love salivating at ther yummy privates. Nadia
She stood up and I grabbed the back of her head and gave her a long deep kiss.
Mom told me to come over right away and tell her all about it. I ate dinner at Mom's house and we chatted about the experience and what needed to happen tonight. I drove home and found Melissa and Dad sitting on the couch watching television. "Hey honey" Dad said. "Melissa come with me" I told her. Melissa stood up and I led her up to Dad and Melissa's bedroom and told her to undress. I walked to my room and put on the strap-on and walked back to the master bedroom. "Dad, get up here now" I yelled downstairs.
Melissa was lying nude on the bed and I was pushing the strap-in into her cunt when Dad walked into the room, "Grace" he yelled. I turned to face him, "hey daddy, I just wanted to let you know that Melissa is now mine and you are no longer allowed to fuck her" I said, "isn't that right Melissa.
East European Super Models Arround The World ::: Escort Agency
" Melissa nodded yes and I slipped the strap-on into her cunt. Dad could only watch as his girlfriend was getting fucked by own daughter. Melissa moaned and gasped as I pushed the strap-on deep inside of her. I then started fucking her, "that's it, fuck me" Melissa yelled. I looked back at Dad and he was playing with his cock. "You like watching me fuck her daddy" I asked. Dad didn't answer, but Melissa continued to moan. "Ohhhhhh, Ohhhh, fuck" Melissa screamed as she came. I pulled the strap-on out of her pussy and pulled it off. I jumped on top Melissa's face and yelled, "eat my cunt slut. " Melissa buried her tongue in my cunt and went to town. I moaned loudly, "that's it slut. " Melissa sucked on my clit causing me to let out a loud shriek. This was enough for Dad to shoot his load onto the floor. "That's it, here it comessssssssss" I screamed as I came all over Melissa's cute face.
Escorts in your city - Escort Directory
Melissa and I panted on the bed. I looked over at Dad who was now looking at the floor, "Dad" I said, "I want you to know that you will not fuck me or Melissa as long as I say so, is that clear. " Dad nodded his head, "Good" I added, "now go sleep on the couch, this is Melissa and my room now. " I gave Melissa a good kiss on the lips as Dad walked away silently. Soon after, Melissa and I were both asleep in each others arms.
The next couple of days Melissa and I fucked constantly. She was almost a nymphomaniac. We would wake up and we would fuck before we left for the day. She would rush home, go over her papers from school quickly and then we would fuck. She would make dinner when Dad got home, we would eat, and then we would fuck. We would sit on the couch after dinner and play around with each other in front of Dad, then went upstairs and fucked while Dad sat downstairs alone. This was exactly what Mom wanted to happen.
Mom called me about a week after Melissa and I started fucking and told me that she was going to visit Dad in two days, and that me and Melissa needed to be gone for a couple of hours. I told her it wouldn't be a problem and she glad to here that Mom was trying to get back with Dad. Before Mom hung up she told me that she was sending a surprise to the house tomorrow and she assured me that I would love it.
Escort Athens, VIP Athens escort
I hung up the phone and got excited.
The next day, after Melissa and I had got done fucking, we heard the doorbell ring. "Who could that be" Melissa asked. I got up and through a tank top and a pair of shorts on and went downstairs. Melissa stayed in bed and told me to come back soon.
I opened the door to a good looking girl, "hey" the girl said, looking me up and down. "Umm, hi" I said back. The girl wore a green shirt and wasn't wearing a bra. Her tits were probably a large b-cup, and she had a tight looking ass. "Can I help you" I asked, she looked at me, "I think so" she said stepping into the house and giving me a kiss. I then realized that this was Mom's surprise for me. I pulled her in the house, closed the door and pulled the girls top off. She had gorgous breasts and I started licking her nipples. The girl pulled my top off as well, "Grace" we heard Melissa yell from upstairs, "come back up here. " I stopped sucking the girls tits, pulled down my shorts, and pulled the girls skirt down as well.
Greece Female Adult Entertainers near Kalavrita Greece Female Escort near Meteora Greece Women Escorts near Olympia Greece Escorts near Athens International Airport (ATH) Greece Female Escorts near Heraklion International Airport (HER) Greece Female Adult
I took the girls hand and ran upstairs to the bedroom.
The girl and I got to the bedroom door and she started kissing me again. Melissa sat up in bed, "who is this" Melissa asked. I broke the kiss and realized I didn't know the girls name. "I'm Kayla" the girl said, dropping to her knees. She then started licking my pussy. I leaned against the wall and let out a moan as Kayla found my clit almost instantly. I looked over at Melissa who was already rubbing her own pussy. This clearly wasn't the first time Kayla did this, "fuck Kayla" I yelled, "your incredible. " I took my right leg and placed it over Kayla's left shoulder and began fucking her mouth. "Ohhhhh please baby" I moaned, "make meeeeee cum. " Melissa was moaning on the bed watching me and Kayla go at it. "Fuck here it comes" I announced, "ooooohhhhhhh" I moaned loudly as I came all over the girl's cute face.
I went over to the bed and put the strap-on on. Kayla jumped into bed and started kissing Melissa.
INDEPENDENT ESCORTS, ESCORT AGENCIES AND ESCORT SERVICE IN GREECE, ATHENS, THESSALONIKI.
Once I got the strap-on on, I laid Melissa down on her back and shoved the cock into her pussy.
Kayla sucked on the cock and licked the juices off of it. Kayla then turned around and got on all fours. Melissa moved to the top of the bed and Kayla started eating her pussy out. Kayla stopped for a second and looked back at me, "put it in my ass" she demanded. Kayla went back to licking Melissa's cunt and I pressed the cock against her tight asshole. This was the first time I had ever fucked someone in the ass, and I was extremely horny.
escort tour adoos escort escort girls bologna shemale escort barcelona vipescortbayanlar cat ankara escort bayanlar escort of italy gay escorts geneva
Kayla obviously had been fucked in the ass before because the cock slipped in quite easily. Kayla let out a yell as I started pumping in and out of her ass. Melissa moaned like a horny school girl as Kayla did great work on her cunt. Kayla rubbed her cunt as I pounded her ass. Melissa shrieked loudly as she came in Kayla's mouth. Kayla's ass was a great fuck and Kayla announced she was going cum again. I picked up the pace, "ahhhhhh" Kayla yelled as another large amount of cum shot out of her pussy and all over the bed.
I pulled the cock out of her tight asshole and laid down on the bed. Melissa started sucking on the cock that was just in Kayla's ass. Kayla kissed me and started playing with my boobs. We were all sweating like pigs and I couldn't help but fall asleep.
I awoke several hours later and saw Kayla was laying on top of Melissa. I pulled my strap-on off and went downstairs nude. Dad was sitting on the couch eating dinner alone, "Hey daddy" I said. He looked over at me, "who's your new friend?" "Just a friend I know" I said going to the kitchen and grabbing a drink of water.
When I got back upstairs Melissa woke up and rolled Kayla off of her. I got in bed and Melissa and I started making out, "that was the hottest sex I've ever had in my life" Melissa said between kisses. I caressed Melissa's tits and ass and told her "your welcome. " Melissa and I soon went back to bed for a couple of more hours.
Kayla woke us up and told Melissa and I that she had to leave but she was going to stop by and do it again. Melissa and I each gave her a kiss and thanked her. Kayla put her clothes back on and left the house. Melissa and I looked at each other and then began to fuck each other.
The next morning Mom called me and told me to be out of the house with Melissa from 4 to 6. I told Melissa I wanted to go to the mall with her when she got done with school. Melissa told me she would go and that she would pick me up when she could.
When we got back home from the mall, Mom's car was parked on the street in front of the house. Melissa didn't think anything of it and we entered the house. Melissa and I went to the kitchen and set down our shopping bags. Mom then came in from the family room completely nude.
Luxury escort services in Greece. Beautiful girls to escort you and fulfill all your desires.
"Hey Grace" Mom smiled, "Mom" I stammered. Mom looked over at Melissa, "and you must be Melissa" Mom said, "I'm Milly, Hal's ex-wife" she added holding out her hand. Melissa looked at Mom, then at me, then ran upstairs up to her room and slammed the door. Mom laughed "the plan is actually working. " "Wait, what" I asked. "Grace, the plan" Mom smiled, "you made Melissa your bitch, while your Dad sat here and watched you fuck her. When your Dad got lonely I gave him a call and we fucked. " I looked into the family room and saw Dad asleep on the couch. "Now your Dad and I can get back together" Mom smiled. Before I had a chance to respond, I saw Melissa standing in a black pushup bra wearing the strap-on. "Melissa, what are you doing" I asked. Melissa walked right past me, grabbed my mom and slammed her down against the kitchen table. "get off me bitch" Mom yelled. Melissa looked possessed and Mom couldn't break free from her grip. "Grace help me" Mom yelled, but I stood in the same place.
Greece Escorts, Attica Escort Models Greece Girls
Melissa shoved the strap-on right up Mom's ass. Mom screamed in agony as Melissa slammed Mom's tight ass. "You fucking bitch" Melissa yelled over Mom's screams, "don't you ever fuck my boyfriend. " Mom was now crying and begging her to stop. Melissa fucked her deeper and harder until Mom suddenly went limp and fell to the ground. "Mom" I yelled. Melissa looked at me, "get over here" Melissa demanded. I don't know why, but I walked over to her. Melissa turned me around and pulled my skirt off and pushed the cock against my virgin asshole. I looked behind Melissa and saw Dad jerking his cock furiously. "Please Melissa, don't do this" I pleaded. "You knew all about this, didn't you ho" Melissa yelled pushing into my ass. I started to cry as my ass started to open. "I'm going to make you pay" Melissa told me as she started fucking my ass. I screamed in extreme pain.
escort independent My personality is upbeat and I always find the absolute best in people. You will find me to be very sweet and confident with a great sense of humor. I am very down to earth and am the kind of girl you can feel at ease aroun
It was worse then anything I had ever felt before.
Mom started to move, "get the fuck out of here" Melissa told her while fucking me. Mom quickly got up, through on her clothes, and ran out of the house. Melissa continued pounding my ass until I could no longer scream. Melissa pulled out of my ass and told me to take my clothes and stay away from her. I cried as a quickly threw on my shorts and shirt and ran out the door. Melissa just watched me, standing there with the shit stained strap-on still on.
.
Call Girl Dresden - Come to Dresden to see Beautiful Women That Could Keep You Company
For those looking for the most amazing thrill when on holiday or a business trip, Independent Escort Dresden
https://www.topescort.de/dresden
can do the trick for you. Discover unbelievable adventures with the hottest women.
Infinite Options for The Best Cheap Escorts In Dresden, Rapid and Trustworthy
Whenever you feel like exploring Germany, either we are talking about a business, trip or a vacation, or even a city break, using the Escort Girls In Dresden system to enjoy some fun is always a marvelous thing. One may think that calling an escort to keep company is a risky and hard thing, but we say it's the the other way. Enjoying the Dresden Escorts platform to see a gorgeous lady and share some intimate moments together is highly easy and reliable. It only takes a few clicks to do that, and the outcome will be amazing.
Assure you use the right Escort In Dresden before making the next step. To come as a help, our page gives multiple security features so that your own details and your payment info be secure. Also, the chicks that offer Fetish Escort
https://www.topescort.de/fetish
on our platform are carefully picked by a team of professionals. Remember you use the right service, with the green badge, for the finest Escort Dresden experience.
Immediate Selection of Women And The Finest Dates
The minute you land on the right site, you will like how intuitive and reliable every feature of this site is. You will get to pick and arrange a meeting with your favorite Dresden Escorts model in less than a couple minutes. Just like the whole country and the people of Germany, these babes adore to be serious and on point. Every date with a model from escort any city Germany will be an astounding one. Either you seek a meeting with a native German beauty or a different type of Dresden Escorts babe, we will make sure to always provide you the hottest results. The most amazing dates await you. No matter the reason or the desires, finding the proper babe for the right date will be something highly pleasurable and easy to do.
Get started by surfing the Independent Escort Dresden for the proper babes. The platform is packed with amazing girls, all of them happy to meet you. Some are sluttier than others, while some are sensual and shy. Select the one that attracts you the most and fulfill your deep fantasies along with them. The Dresden page is classified as one of the hottest in the whole land, in conclusion the experience will be the same. No need to search for other platforms or other paged, the Escort Girls In Dresden platform will definitely grant you the hottest results in terms of sexy girls to date you. Release your inner desires and fantasies because these beauties will make sure to fulfill them all for you. Even the craziest sexual fantasies can find their tamer with this Escorts Dresden
https://www.topescort.de/dresden
service!
https://www.topescort.de/
https://escortnews.eu/escorts/Germany/Dresden.html
https://germany.escortnews.com/escorts/dresden
https://www.topescort.com/dresden
Escort girls - If you want to make the most of your time in Barcelona and have an experience that will stick with you forever, an escorted tour is the way to go
Barcelona is particularly well-known for its cuisine, which is inspired by both Spanish and Catalan traditions. Paella, a rice dish with fish or pork, and tapas, tiny plates of food suited for sharing, are two of Barcelona's most popular foods. Visitors may enjoy these and other meals in the city's many restaurants and cafés.Nitsa is an absolute must-go destination for music fans that gravitate towards the techno genre. This club is known for hosting some of the world's most talented techno DJs, and its location in the basement of the renowned MACBA art museum in Barcelona contributes to its stellar reputation. The nightclub is open till six in the morning and features an outstanding sound system.
Escorts Barcelona
Call girls in Barcelona are not only stunningly beautiful, but also very bright and refined individuals in addition to their physical allure. They have an extensive education, have travelled far, and are able to hold their own in any kind of social setting. These ladies are an excellent option for you if you are looking for a dinner companion, whether it be for a professional event or a night on the town. They are charming and clever, and they always know what to say in any given situation.Of course, the red light district and sex clubs aren't the only places to have sex in Barcelona. There is also a growing lesbian, gay, bisexual, transgender, and queer (LGBTQ+) community in the city. Arena, Metro Disco, and Punto BCN are just a few of the best-known LGBTQ+ nightlife spots in Barcelona.
Escorts Barcelona -
https://micro-escort.com/escorts-from/spain/barcelona/
It's simple to arrange for an escort lady in Barcelona. The profiles of many women are available online, and you may choose the one you like most. Once you've decided on a particular lady, you may schedule her services by getting in touch with either the agency or her personally. The female will show up on time and wherever you decide to have your date.Barcelona is a city with everything you might want. Culture vultures, history buffs, gourmets, and beach bums will all find much to enjoy in this dynamic and interesting location. So why wait any longer to see Barcelona for yourself and everything it has to offer?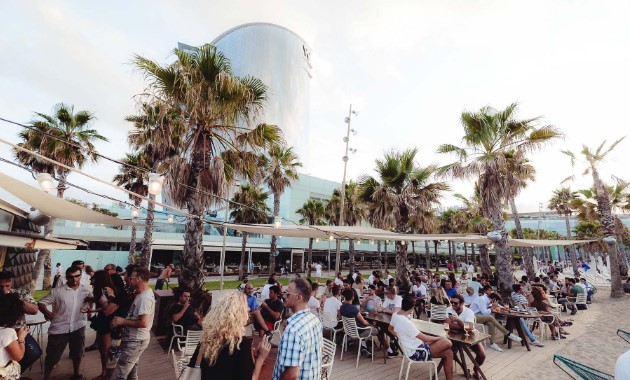 Escort Barcelona -
https://okshanghaiescort.com/escorts-from/barcelona/
Barcelona is known for its exciting nightlife, beautiful buildings, and beautiful beaches. It's also where some of the most beautiful call girls in Europe live. Not only are these girls beautiful, but they are also smart and stylish, making them the perfect friends for any event.Naturally, if you are searching for something that is a little bit more personal, then the escort ladies in Barcelona will be more than delighted to accommodate your request. They are skilled in the art of seduction and can provide you an outstanding experience that you won't be able to forget any time in the near future thanks to their expertise in this field. These females will be able to fulfil all of your needs, whether you are searching for a sensuous massage or something a little bit riskier.