/

Daphne and the Estragon
Daphne and the Estragon
Supernatural
2006-04-25
What Daphne first saw about the estragon was its peculiar shape, an oval, ventricular sac on one end, with striated, purple veins all along its side. It fluttered like gills. The creature had lowered Daphne to her knees and because of the syringe dangling out of the plump swell of her bottom she felt weird and tingly and like doing what she was told, and she got down as though the estragon were something she might pray to. "Young bitches," said the creature to a ghoulish companion behind him, who peered at her with black eyes that were wilted like raisins. The ghoul lurked in the shadows behind the mutant who tormented her. She felt robbed, and cheap. In fact Daphne found the whole situation -- being cornered in the dark streets and sedated by these two mutant henchmen -- distasteful, but at some level of remove. The drug they had jabbed into her asscheek and sent coursing through her veins had removed all sense of fight or flight, all energy for endeavor. The estragon dangled before her and oozed its peculiar alien juices, and yet when the time came she acquiesced, even leaned forward a little to allow the revolting thing full ingress into her tiny young, pink mouth. A taste like the smell of a homeless man filled her and a shudder rippled through her, but the twitching thing sank into her and she didn't recoil. Gar, the creature, always loved that first moment when he stuck it into an Earth girl. It reminded him of interstellar travel. Sometimes it was like a hop between inner planets and sometimes a long, deep jag squeezed into a minute's cryofreeze. That feeling of a world of time and space erupting at his feet would quiver through him again when he brought these fertile, fragrant mammals to heel. He'd lean into a new girl and that first burst of pleasure would signal to him that her flesh was his until he no longer sought it and this ownership was like the ownership of conquering worlds -- of conquering the world of the quivering girl at your feet, a humbler pleasure, but otherwise much the same. "Young bitches always give easy on this planet, Tar," he mumbled to his new deputy, still thinking of hopping worlds and also thinking of young Daphne's mouth as a fudge brownie full of warm milk.
luxury Istanbul escort agency
He wasn't in the mood to dawdle, or to toy with poor, subjugated Daphne now that he'd tamed her like a defeated animal by greasing up her mouth-hole. It was the act of putting it in that tagged them in this Brave New World. And the more sperm you pumped into girls on Earth now, the younger they got. So he might as well go ahead and have his fun early and often, because it only got better from here.
Pretty Earth girls had this curious feature -- and pretty Earth girls were the only original Earthlings left alive on this world -- because a few years before a mad race of sex mutants had risen up out of a bio-genetic warfare experiment gone wrong. Programmed by some sick fuck in the Defense Department to aid in the rape of indigenous populations, these mutants had been made sexually obsessed, forceful in their attentions, and abominally grotesque -- to increase the terror effect and force into further submission whatever indigenous female population it had made it its business to conquer. This grotesqueness explained the foul look and taste of the estrapod that slithered and hardened moistly in Daphne's whimpering mouth. She clasped her wrists behind her to keep from pushing Gar away from her. The impulse to propel the slick, musty thing away jangled through her urgently. But it still didn't translate into any message to her body other than submission. Gar pulled the estragon out from between her pouty, and now rather creamy, lips. "Isn't this humiliating?" asked Gar, and she looked up at him sadly. "Yes," she sighed, doe-eyed and beyond consolation, lost in teenage anguish. Younger and younger, Gar would think many times in rhythm with his thrusts as he came and the juicy mutant pudding shot in veins of hot seed into some Little Miss Heather's junior bouncy backside, pigtail bows bobbing with the wiggly, jiggling ass. Younger and younger, he'd groan as he hosed down the velvet pouch, some spritely little Alicia's tasty quim.
Welcome To Greece Escort Service
As he spritzed her and thought of her belly and her insides and what she might have had for lunch. Flecks of come-splatter on chewed-up cucumber salad and a half-pint of cottage cheese. He liked to think of shooting come all over their gardeny fashion-model food, even though he knew it didn't really happen that way. And even though he knew that these tiny, desperate little dolls fingered every other meal back up again to stay skinny but plump in the right places, fuckable -- another feature of the genetic re-tooling they'd been given by the alien race that had made them slaves. The only times they ever fingered their own holes was to abuse themselves. Gar would think younger and younger because he knew that when he squirted his grease into a girl it would make her pinker for next time, a little more freckled and bright-eyed, and with no memory of her previous defilements. It was like violating a girl's virginity over and over again, seeing that tragic sonnet of shock, revulsion, and humiliation that spelled over her soft face as once more the girl learned about sex through rough proddings, hand-and-kneed squeezeopens. Pretty face clinched and wincing in three-quarter profile, as she dared periodically to turn around and try to catch a glimpse of her own fuck-on-all-fours, the slime-coated estragon plumbing the petal of her flesh. He said it aloud. "Younger and younger. " Little Daphne gazed at him blankly, thick eyelashes fluttering, blue eyes registering a mild desire to be someplace other than here. She ached. A cool wet lump trickled onto her tongue and then a balloon of goo burst between her cheeks, filling them. It jiggled in her mouth like gelatin.
GR Escort Girls Athens Greece
Splats of steaming fuck-oil stained Daphne's underthings, marked her smooth body. Almond-haired Daphne Daggerts was fifteen now, swollen with the pink buds of sexual maturity. Her pert titties with flush aeraeloae, he knew, would harden when his partner squeezed and fondled and chewed on them. (He was through with her; his tingling root, bubbling in the thick lather that filled her mouth, was already beginning to soften. ) As she squirmed with the occasional shuddering fits of gross-out that oozed from under the cool blanket of the drugs she'd been given, her mammaries would harden and glow, and her fuck canal would flush up and tighten and blossom wetly. Her body would betray her. This was another genetic feature, and quite a designer one too: remaking these little females with such a degree of openness and willingness to be conquered went against the biological survival imperative and so was tough to code into the earthgirls. But it was worth it. He stayed for a while and watched as his partner loomed over the sperm-splattered Daphne, who had lolled back onto her haunches and straightened out her legs before her, wiping dejectedly at the streaks running down her chest. Tar had clutched her at her sides -- almost politely, as though he'd just dipped her during a dance -- and lowered himself to her, and she gazed off flinching as he sucked on the side of her neck, feeling the pulse of her carotid, and fondling her soft, squishy boobs. As he let a gratified groan Daphne caught on her breath and trembled like an ewe-lamb; the horrible thing's prunish, pupil-less eyes had filled the pathetic little fool with heart-freezing revulsion, and she'd been immobilized with queasy loathing. "Ah," Tar gloated, massaging Daphne's breasts, the winking cat grimacing rhythmically. "They are getting firmer. " He bit them, one quickly, the other holding for a while, until Daphne arched her back and mewled miserably, afraid. "I can feel her getting younger.
Greek website containing ads by men, women and couples searching for sex partners.
" He began to lick Daphne's chest. "Skin's tightening. Getting warmer. " She had already forgotten the fucking Gar had administered to her. In an amnesiac haze, she was now starting over, as she offered it up reluctantly for Tar. Gar envied his partner for his ability to strike fear in his seedlings. Tar was one sick monster, Gar had to give that to him. He'd learned this when he'd gone on a girl-gathering expedition with Gar some time before, in the Simulation Zone -- where the girls inhabited a mockup of their old lives, brainwashed to forget the conquest of their species and hypnotized to forget, mostly, the quiet indignities that they endured alone, in the dark, at the hands of the thrill-seeking Hunter Gorn. .
https://www.6guide.be/
is the top-class online escort service in Belgium!
Belgium escort girls will turn you crazy
Why do all people consider that it is too hard to find escort girls in Belgium? Belgium may be small but it is is full of sights and beautiful colleens. Visiting our website, you may admire skinny lassies and spellbinding women, brunettes and blondes, alt girls and thoughtful misses. All of them have their own amazing skills and features. You may always contact the customer service that supports all clients. It works 24/7. Just say what you want from a hottie, describe a perfect female body and they will find an appropriate call girl from the big list.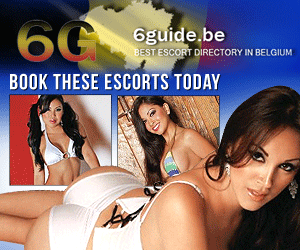 You make a decision where to go with your escort model. It can be a walk in a Belgian town, business meeting, home party, dinner in a restaurant or anything else. If you're here for medieval streets, and tranquil canals, you may need an intelligent partner. Our jilts will be happy to keep you company during tourist excursions. When visiting Belgium, you should see The Canals and Belfry of Bruges, and many other popular attractions. Follow the
call girls brussels
to see the cutest call girls that are ready to meet you in Belgium. All of them are able give you satisfaction of your tastes.
All the first-class Belgium escort agencies on one site
Escort agencies in Belgium do a great job and provide their customers with the first-class escort services in this country. If you want to book a babe, please, contact the agency and tell about your plans beforehand. It will guaranty that your escort girl will be ready for 100%. They are able to give you wonderful massage that will make you happy and help release stress. You can enjoy the continuation, too. Winsome misses with elegant body forms can demonstrate you what a real passion means. When you use services of Belgian escort, you may be sure of the quality. You should know that privacy is the most important thing in this business. Sometimes, our clients are worried about their business reputation or relations with their girlfriends. We understand it and do all that is possible to keep your date with an escort chick in secret. You can invite a mistress to your own house, a rented apartment, hotel room otherwise we can provide you with a nice place optionally. Feel like a successful gentleman for one day or more thanks to our arresting call girls. You shouldn't lose such a possibility. If you are lonely – you need a breathtaking queen. If you have a spouse, she will never know about your entertainment. This is the top Belgian escort agency with irresistible divas for all tastes.
call girls brussels
is amazing source of pleasure. When you have fun with our escort girls, you become absolutely happy and nothing can make you upset or unsatisfied.
Escort girls
Escort girls -
bulgaria pornstars
Escort Zejtun
Excellent dates with top-class escort girls of Malta on
https://escortnews.eu/escorts/Malta
!
Pretty escort models from the high-class agencies in Malta!
Malta is a Southern European country where you can find many mischievous escort girls. This place is a popular tourist destination with a warm climate, numerous recreational areas, and historical monuments. You will be happy to be escorted by a scorching looker while visiting Casa Bernard, and St. John's Co-Cathedral.Our website of escort girls in Malta needs your attention. When males are searching for sexy girls that can make them happy and please to the full, they use our online service. Check the endless list of the most impressive escort models in this city and choose one. One of them can pleasure you in a few hours. Does it sound fantastic? Everything is real. Malta escorts will show you the amazing gratification! Slim-shaped nymphos with captivating body shapes and gorgeous faces are ready for entertainment. See their profiles to book the best one. Age, weight, and contact information are all you need. You'll be glad to meet one of them or all of them one by one. These honeys are so close to you. Let one of them know that you are interested in a meeting. If your hurt tells that you need to date one of these phenomenal starlets, you should listen to it.
https://escorthub.org/escorts-from/malta/
gives you a possibility to change your life and meet lassies that cannot be forgotten.
The hottest escort services in Malta on one online service
Malta escort services give you all information about top girls. These information is useful when a customer is looking for such extreme time-spending like BDSM, foot fetish or some other fetishes. Realize all your wishes thanks to
https://escortnews.eu/escorts/Malta
. It is very difficult to pick an appropriate sexual partner in real life but this online service gives you amazing opportunity. Smoking-hot, well-educated, and ambitious barbies can't wait to love you and have unforgettable time together.If you want to get pleased by two escort models at once, we will find two dolly birds who work in a team. New ladyloves and new tours appear on the online service every day. Attractive cuties are ready to date you and give all necessary pleasures. Males use escort services very less. Most of them consider that it's too much for them. This isn't true. If you want to have superior sweeties close to you, this wish should become true Most of all escort girls of Malta do their job perfectly. You can experience it if you come to this amazing country. All useful information is
https://www.topescortmalta.com/