Gentle Journey
Taboo
2009-07-13
Topic: Gentle Journey Part 1 Gentle Journey Part 1
Through the clouds of the muzzy morning Mika woke to her mother calling loudly, "I am off are you up yet?" Mika's throat stung and her eyes were puffy and swollen, she thought to herself another hay fever choking day. Her mum Petra put her head around the door, "Come on sleepy head up and out". "I feel dreadful mum I am staying here!" "Oh you poor thing you do look really peaky, I have to rush, coz I am late you stay and call me later, let me know how you feel? OK Luvvy" With that she was gone. Mika fell back into the covers and was soon sound asleep.
Suddenly she woke hearing the buzzing of the traffic out in the street, her head felt much clearer and less muzzy, and she skipped out of bed and headed for the bathroom. Mika looked at herself in the bathroom mirror, her red hair tussled and straggled down over her shoulders, her thrusting nubile breasts, 34" full c cup size, partially covered by her long locks, Mika was so proud of her breasts she loved the way they were so pert and the small pink nipples pointed upwards enhancing the shape dramatically. Her body was very sensitive as she rubbed her nipples, sending shivers down her young nubile body. Looking down her body she saw a slightly bulging waist, the last vestige of her puppy fat. Fast disappearing since she had taken up cross country running last term, she had noticed how her body shape had changed, her fingers smoothed across her pussy bereft of any hair, her sensitivity increased with the attention she was giving to puffy protruding labia lips, she loved the sensations she felt when she rubbed her lips and more so when she pulled the hood of her clit clear and squeezed the growing nub, bolts of lightning type feelings invaded her very being, so much so her juices sprang almost fountain like from her silky mound. Mika had been shaving her genital area for the last two months since her 16th birthday, her best friend Lottie had shown her hers and gone into great detail about how turned on she and her boyfriend got once she had shaved her pubes off.
Very sheep like Mika tried and shaved her own pubes, even though she had yet to have a boy friend that she wanted, to see her down there. If she could find someone as well built as her Mums boyfriend Kit she felt her pussy beginning to moisten with those thoughts. Shaking her head to clear away the sexy thoughts she turned stepping into the shower the water cascaded down over her body, sending delightful shivers through tummy and her pussy, showering was the best wake up call she could ever imagine, soaping herself all over she worked the lather into her breasts and down over her mound, shards of lightning exploding in her head and her tummy racing with tremors and a warm glow spreading though her body.
Stepping out of the shower, Mika realised she had forgotten a bath towel from the airing cupboard on the landing. She walked out of the bathroom along the landing past her mums' room to the airing cupboard; she pulled a big fluffy white towel out holding it to her chest she turned around and began walking back to the bathroom, her mind was drifting and she was thinking about the 2 weeks of Easter holiday were just a couple of week ahead contemplating what she was going to be doing with her spare time, as Lottie will be at her grandmothers for the 2 weeks whilst her parents were away.
Suddenly her mums' bedroom door opened, when Kit her mums boyfriend/partner walked out of the room colliding with her, she saw noticed immediately his exceptional naked body, he also was startled seeing her there, his hands shot out to steady himself, instead he ended up grasping her upturned breasts.
City Tour in Athens
"Eeeek!" screamed Mika jumping backwards pulling the bath towel around herself in total shock, "What are you doing," she stopped in mid sentence "What are you doing here, you are supposed to be in France?
"Oh my god, you gave me such a fright Kit blurted out genuinely shocked at her sudden appearance, "I did not think you or indeed anyone was home". He was still standing bare arsed naked, his flaccid penis hanging in front of him limp but bigger than most, even if she was limited by how many men's cocks she had seen in her sheltered life.
Kit was staring at Mika with such intensity, his eyes looking at his hands still grasping her near bare chest, covered modestly with the towel. "My god you certainly are your Mothers child. He said in his highly polished English Oxford accent, "and your breasts feel even better than hers". He stepped forwards pulling her into his arms. "If you ever need comfort or a shoulder to put your head on, I am here for you". He said with a sultry smile on his face. Mika's face was burning bright red, she felt his arms encircle her body and envelop her tightly to his muscled chest, she felt his cock prodding into her as he became excited and hardening with her close proximity. Pushing him back and extricating herself from his clutching arms, she stepped backwards pushing with both of her hands to get away from his grip.
Suddenly her towel dropped leaving her nakedness to his full admiring view. Mika's first sight was his growing member, it was becoming engorged and thick growing harder as she stared at his, thickening member. Kit was still staring at her beautiful nubile body, her nipples getting harder from the excitement she was experiencing.
"Mika look what you're beautiful body is doing to me; I have never got this hard so quickly before". He pulled her again into his arms and before she could react she felt his naked body touch her naked body and his turgid member was sliding between her thighs rubbing along now her wet slit, sending pulses of ecstasy through her pussy.
Greek Escort Elite We are always looking for talented and attractive models who wish to have a career and earn lots of money in Escort industry. If you are attractive Greece Escort girl, do not miss the opportunity to join AAA Escorts Greek Agency. Plea
His turgid manhood was sawing through her slit and tweaking the head of her clit, which had grown like a rod since her first contact with Kit. He put his face down onto her shoulder and began kissing the nape of her neck, his left hand encircling her left breast pinching the nipple and rolling it between his fingers. With his hand on her breasts and his member sliding over her clit, he could now feel she was dripping wet.
Her mind full of emotional feelings and her body yearning for more, she crushed herself up tightly to his hard muscle frame. She felt his monster cock sawing back and forth across her wet slit and her clit was being tantalized beyond any other feelings she had experienced. Suddenly she pushed herself away from him, grabbing her towel she ran down the landing and into her bedroom, slamming the door and laying her full body against it.
"Oh come on Mika you know you liked it, you are gagging for it open the door please?" "Go away, leave me alone", she yelled at him.
"Oh well act like a child then, I am off out once I am dressed, I will catch up with you later and we can talk this through properly!" He shouted sounding very angry, eventually she heard him walk away.
Mika was shaking with excitement and fright; she felt the wetness in her pussy and the excitement in her belly. Ever since Kit had moved in with her mum she had fantasised about him, she saw him in the garden one day in a slim Speedo costume; she first noticed his rippling muscled stomach and wide muscled shoulders, but more importantly the bulging protrudance of his cock. Mika had only seen men's cocks from porn sites and a couple of the boys from school at a sleep over. Now she had not only seen one in real life she had felt its full majesty gliding over her wet pussy and his hands kneading her tits bringing all sorts of explosions in her head and tummy. Even as she looked back at what just happened to her, her hand was gently pulling her lips of her still moist pussy apart as she sought out her l clit prick as she had nicknamed her clit. After half an hour she got dressed and ventured out of her room, the house was empty and quite she made some food for her lunch then she headed out to the park.
Cont.
escortforum greece
. . You can send me your thoughts or similar stories to atomis14@hotmail. com
.
Barcelona escort girls - It's worth noting that Barcelona has very stringent regulations governing the escort sector, with the goal of ensuring the health and safety of both customers and workers
Barcelona is well-known for its exciting nightlife, beautiful architecture, and picturesque beaches. Millions of visitors flock there year, and with good cause. Barcelona's escort services are one of the reasons the city is so well-known.Barcelona has some of the most attractive and skilled escorts in the world. They have a great deal of seduction expertise and may provide you a memorable experience. Escorts in Barcelona are the ideal option whether you're searching for a date night, a crazy night on the town, or simply some companionship.
Escorts
In conclusion, if you are travelling to Barcelona and are seeking for the ideal travel companion, your search might end here with the escort females found in this city. They are stunning, witty, and cultured, and they will be able to offer you a once-in-a-lifetime opportunity that you will always remember and be grateful for having had. Why then should we hold out? Make your reservation for an escort girl in Barcelona right away, and get a head start on exploring all that this magnificent city has to offer.The red-light district of El Raval is one of the most well-known places in Barcelona for sex. There are a lot of sex shops, strip clubs, and brothels in this area. Even though this area might not be for everyone, if you are interested in this part of Barcelona's culture, you should check it out.
Barcelona escort girls -
https://escorts-forum.com/escorts-from/barcelona/
The privacy offered by escorts is another reason why they are in high demand in Barcelona. Because of their familiarity with the desires of their clientele for privacy and secrecy, they are able to offer these guarantees without lowering the standard of their service. They can arrange to meet you at your place of lodging and provide you unprecedented seclusion.The Eixample neighbourhood is home to some of Barcelona's most well-known LGBT nightlife options. Arena, the city's most well-known gay club, is a three-room establishment that stays open until 6 in the morning. The club is fun and welcoming, and it regularly stages drag acts.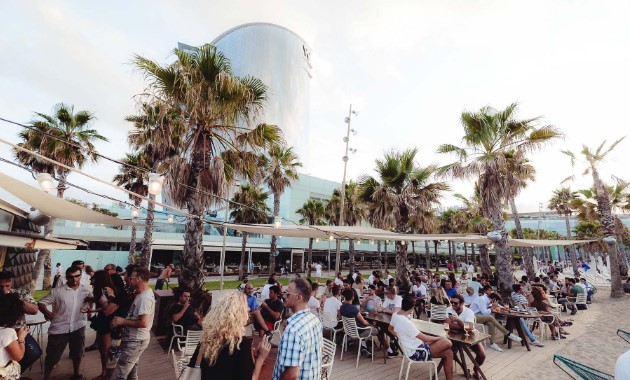 Barcelona escort girls -
https://escort-guide.tv/escorts/Spain/Barcelona.html
One of the most visited cities in Europe, Barcelona receives millions of tourists each year as a result of its status as one of the continent's most popular tourist attractions. This bustling metropolis serves as the administrative centre of Catalonia, which is located in the northeastern part of Spain and is famous for the uniqueness of both its culture and language. There is something for everyone to enjoy in the city of Barcelona, from its breathtaking architecture to its delectable cuisine, its lovely beaches, and its extensive history.Barcelona is a city that truly has everything. This colourful and interesting location has something for everyone, whether they are interested in culture, history, gastronomy, or beaches. It would be foolish not to take advantage of this opportunity to see Barcelona for yourself and feel its enchantment.