/

Teen

/

Family Friend - Part 25
Family Friend - Part 25
Teen
2009-05-10
Chapter 87
At about the same time Steve was cleaning the garage, Angie and Michelle were strolling through the mall. It was still early enough that it wasn't very crowded and they stopped at the food court. Angie went up to the Dunkin Donuts and got them each a cappuccino and they took a seat at one of the tables, sipping on their drinks and watching the odd person walk by. Angie looked over at Michelle. She looked so good in her light sun dress - the same one she'd worn that first night they'd all spent together at Steve's. It seemed so long ago now, but the memory was still very fresh in her mind. It was the beginning of this exciting new sexual lifestyle and a night she'd remember for the rest of her life. Michelle noticed her staring and looked down at the front of her dress.
"What? Did I spill some?"
Angie laughed and leaned in closer. "No, I was just remembering the last time I saw you in that dress!"
Michelle thought for a second, then grinned. "Oh yeah…I remember!"
"Mmm…it looks great on you, babe. "
Michelle giggled and looked around to make sure no one was close enough to overhear them, then met Angie's eyes. "Thanks. " She moved closer and lowered her voice. "And just for you, it's all I have on!" She waggled her eyebrows teasingly.
"Oh, you naughty little girl!" Angie exclaimed with a wide smile.
Escorts Collection - world wide Escort Directory
"Sunday morning and no underwear…tsk, tsk, tsk!"
Michelle sat back and laughed. "It's all your fault, you know. I wouldn't've dared do this before I met you!"
"You didn't do a lot of things before you met me!" Angie shot back with a wink. She kicked off her sandal and brought her foot between Michelle's legs under the table, trying to push it between her thighs. Michelle's eyebrows shot up and she looked around nervously, trying to hold her legs together.
"Angie! Stop that! Someone will see!" There were no tablecloths on the tables and anyone who happened by wouldn't have to look hard to see what was going on. Angie gave her that mischievous grin.
"No one's looking," she said in a sultry voice, still trying to push her delicate little toes into Michelle's bare pussy. Michelle noted that there weren't any people close enough to actually see what they were doing and eased her legs apart a little, but it still made her nervous.
"Please, Ang…if someone sees…" She let the sentence hang unfinished.
Seeing the concern in her eyes, Angie reluctantly lowered her foot and Michelle breathed a sigh of relief. "You're right…I'm sorry. "
Taking her hand, Michelle smiled. "I love when you touch me, but let's not risk doing it in public, ok?"
Angie nodded, then her smile returned. "What about the washrooms? I bet nobody's in there this early!" She gave her girlfriend a sexy wink.
escort agency athens
Michelle laughed. "Oh my god! You are insatiable!"
Angie's eyes sparkled. "Uh-huh. So is that a yes?"
Michelle stared into those beautiful blue eyes and felt her resolve weaken. "Are you serious?" Angie nodded, watching her intently. Michelle looked around the mostly deserted mall. It did sound exciting, and as much as she hated to admit it, the thought of sex in a public place was turning her on a little. Especially lesbian sex. She took a deep breath. "Well, I do have to pee!"
Angie almost jumped to her feet, reaching for her hand. "Me too! Come on!" Leaving their half finished drinks on the table, they hurried down the mall to the restrooms and went into the ladies room. Michelle stood by the door while Angie made a quick check of the stalls, then opened the one on the end, beckoning to her. With her heart pounding, Michelle crossed the tiled floor and stepped into the stall. Angie came in after her and pulled the door closed, then turned to her. Without a word, they embraced and kissed, their tongues seeking and teasing as their bodies pressed together.
Malaysia Escort - Kuala Lumpur Penang Johor Bahru Escort
Angie slid her hands under Michelle's thin dress and squeezed her bare ass, bringing forth moans of pleasure from her.
Michelle ran her hands through Angie's long golden hair, holding her mouth to hers as she enjoyed her gently caressing hands on her bare flesh. She moved down and ran her fingers over her back, noting there was no bra strap under her tee shirt. She dropped her hands down to Angie's denim clad ass, so smooth and tight inside the tight jeans she was wearing that she was almost certain she wore no panties either.
After a few moments, Angie couldn't wait any longer. She broke off the kiss and knelt on the floor at Michelle's feet . Lifting her dress up, she paused for a moment to admire her aroused pussy, puffy and moist with her juices. She looked up at the pretty brunette and licked her lips, smiling. "Mmmm…you look yummy!"
Before Michelle could respond, Angie's mouth was on her pussy, her tongue lapping and pushing into her hot wetness. She moaned softly, the sound amplified by all the hard surfaces in the room. Angie murmured contentedly and began to lick in earnest at her clit. There was no telling how long they'd have and while the idea of being caught was exciting, she wanted to get Michelle off and taste her delicious cum, so time was of the essence.
Michelle moaned louder as Angie's tongue delved inside her pussy and rolled across her engorged clit. She was even more terrified than Angie of someone coming in and discovering them, but it just felt so damn good! Angie continued her assault and in only a few minutes, Michelle was breathing hard and her body was starting to tremble as she felt her orgasm building fast. She now had one foot up on the closed toilet lid and Angie was slurping away at her dripping snatch hungrily.
Escorts in Athens - Athens Escorts Directory of Escort Girls and Escort Agencies in Athens. Athens Escorts Services. Escorts List Athens.
Suddenly, they heard the bathroom door open and Angie paused, but didn't move. Michelle froze in place, her orgasm fading as fear replaced it. She listened as footsteps moved across the floor and the door opened and closed in one of the other stalls. Thankfully, it sounded like the first one, and they were in the fourth. Cautiously, she looked down at Angie, whose head was still under her dress. Her heart pounded and she closed her eyes, waiting for the inevitable. It wouldn't take much for anyone to notice Angie's feet and her one foot on the floor if they looked under the walls of the stall.
They heard the sound of someone peeing, then the toilet flushing, the stall door opening, then the sound of running water in the sink. Angie took advantage of the noise of the water to pull her head out from under Michelle's dress and peer up at her. Michelle looked down and was surprised to see a wide grin on Angie's face, her lips and chin wet with her juices. She was actually loving this! Angie winked as the water stopped and the howl of the hand dryer filled the room. A few seconds later they heard the door bang closed and Michelle let out the breath she hadn't even realized she was holding.
Angie grinned up at her. "Wow, that was close, huh?" She ducked back under Michelle's dress and began to once again lick and suck at her wet hole. But the terror of being caught had taken all of Michelle's enthusiasm from their tryst and she pushed her head back.
Turkey escorts directory
"No, Ang…I'm sorry…I can't do this now. "
Angie looked up at her with a disappointed frown. "Aw…but you were almost there!"
"I know, but it's not gonna happen now. I'm sorry. "
Angie stood up and kissed her. "Ok, I understand. " They left the stall and went over to the sinks, where Angie washed her face while Michelle dabbed at her still wet pussy. As exciting as it had been at first, their brush with discovery had taken all the wind out of her sails.
Angie looked over at her as she dried her face. "You have to admit, that was pretty Michelle replied without much enthusiasm.
"Come on, you can't tell me you weren't having fun until she came in. "
With a small smile, Michelle nodded. "Yes, it was fun until then. " Her expression became more serious. "But think what could have happened.
Escort Türkiye - Escort Bayan - Escort İstanbul - Escort Ankara - Escort İzmir - Escort Adana - Escort Bursa - Escort Eskişehir - Escort Sakarya - Escort İlan - Escort Antalya - Escort Mersin - Escort Konya - Escort Balıkesir
If word gets out that we're…lovers, we'd be social outcasts at school!"
Angie shrugged. "So? The guys and Kristi would still be there. "
Michelle sighed. "Yes, maybe. But I don't want to feel like a leper at school. And that's just what would happen. You know how these things are. Even if someone doesn't care that we're doing it, they'll follow the others just to fit in. " Angie nodded. "And you could forget about cheerleading. " She paused. "And Ashley. "
Angie's eyebrows shot up at the mention of Ashley's name. She could read the look in Michelle's eyes, and it was very similar to the one Steve had whenever her possibly hooking up with the pretty senior came up. Was it jealousy or something else?
They left the washroom and returned to their table at the food court without speaking.
Escort İzmir Escort Bayan İzmir Escort İlanları İzmir Escort Antalya
After a moment, Angie looked up at her as she sipped on her lukewarm cappuccino. "Are you ok with me flirting with Ashley?" Michelle didn't meet her eyes and she reached out to take her hand. "Michelle, please answer me. If you don't want me to, then I won't. I don't want to screw up what we have. "
Michelle finally met her eyes. "What does Steve think about it?"
Angie sighed. "He'd rather I didn't, but said he won't tell me not to. He says it isn't a jealousy thing, but he's worried about bringing in more people. "
Michelle nodded. "I kinda agree with him, Ang. I mean, none of us really know her all that well and you said yourself that it was just a hunch she's into girls. "
"A strong hunch, babe," she replied. "You didn't see the way she was looking at Mandi that day at the creek. Just ask Jake.
İstanbul Eskort Bayan Antalya Eskort Bayan Ankara Eskort Bayan Bursa Eskort Bayan İzmir Eskort Bayan Eskort Bayanlar Masor Bayan
"
She nodded. "I know, but please just be careful, ok? I don't want to ruin this thing we have. "
Angie smiled and squeezed her hand. "I promise. " All morning she'd been trying to think of a way to tell Michelle about Lin's upcoming visit and decided this was as good an opening as she was going to get. "Speaking of other people, a friend of mine from Williamstown is coming for a visit next weekend. " Michelle looked up at her. "She's been my best friend since kindergarten," Angie explained, "Her parents are taking her brother to university and dropping her off Thursday. She'll be staying until Sunday. "
Michelle nodded. "Cool. "
Angie leaned in. "I know you'll like her, baby. Her name's Lin and she has a very sexy little body!" Michelle looked up, a surprised look on her face as she grasped what Angie was telling her.
"You mean…you and her…?" Angie nodded, still gripping her hand.
escort bayan, bayan escort, escort istanbul, escort ankara, escort izmir, escort antalya, eskort istanbul, evinde eskort, rus escort, masöz ...
"Yes…only once. Remember when I went back to Williamstown for a week?" Michelle nodded, her eyes still wide. "Angie sighed. "Well, we discovered then that we both kinda had a thing for one another, but neither knew how to say it. When we thought we were never going to see each other again, I guess it just sort of…happened. " She gave her an apologetic look. "I'm sorry I didn't tell you, Michelle. I honestly thought I'd never see her again. "
Michelle slowly extricated her hand from Angie's and sat back in her chair. "You lied to me. " She watched Angie's face for a moment, then asked, "Does Steve know?"
Angie sighed and hung her head dejectedly. "No, not yet. " She looked up. "But I'm going to tell him. Today.
συνοδοί που βρίσκονται στην αθήνα
"
Michelle frowned. "But you lied to me!" She could feel her tears welling up and tried to blink them back, but one escaped and trickled down her cheek.
Angie's heart fell as she tried to come to terms with what she'd done. While technically it wasn't an outright lie, it was definitely a case of lying by omission of the truth. But this wasn't the time for semantics. She had to fix this…right away. She reached out for Michelle's hand but she quickly jerked it away, folding her arms under her breasts.
"Michelle…I'm so sorry. Please forgive me. I love you so much. "
Michelle sniffed back a tear and started to get up, but Angie was expecting that and gripped her forearm. She felt her own tears starting to flow and looked pleadingly into Michelle's face. "Please, baby…I promise…. it'll never happen again. Please don't walk away.
"
Michelle hesitated, then sat back down. She reached for a napkin and dabbed at her eyes, then looked defiantly at her lover. "Angie, this has got to stop. Can't you see you're out of control? I don't want to be in love with the school slut!"
Angie hung her head, nodding. "I know," she replied quietly, her voice cracking with emotion. "You're right. " She lifted her head and wiped away her tears. "Ok, I promise…I won't go after Ashley. " Michelle looked into her eyes and could see she meant what she said.
"And what about…Lin?"
Angie sighed. "Lin…" she said, staring down at her half empty cup on the table. She looked back up at Michelle. "I…she…" She struggled for words for a second, then stopped and took a deep breath. "Michelle, I love her. Not like I love you, but she and I have been best friends for years!" She lifted Michelle's hand to her lips and kissed it lovingly, not caring who happened to see.
Escorts Collection - world wide Escort Directory
"And she really wants to get together this weekend. " Michelle didn't reply, but Angie sensed she was giving in a little. "Besides," she continued, daring a feeble smile, "When I told her about you and Steve, and what we do together…" She let that hang for a few seconds to sink in. "…she said she couldn't wait to meet you guys. "
Michelle had been looking down as she listened to Angie's plea to allow her to fuck her friend. She really wasn't buying it until she mentioned the last part. Her head shot up. "Wh…what? You…told her about us?"
Angie nodded. "Not everyone, just you and Steve. And don't worry, she won't say anything. I trust her with my life. "
"You're trusting her with my life too," Michelle grumbled. "And I don't know that she won't tell. "
Angie let that pass. At first she was sympathetic to Michelle and how she'd deceived her.
escort agency athens
She had a right to be angry. But Lin was her friend, a very close and trusted friend, and it hurt her to hear Michelle talk about her that way. But getting angry with Michelle wasn't going to help matters. She was hurt and was just lashing out.
"Look, Michelle, I told her about us because I thought you might like to get together with us. She's very beautiful and when I showed her your picture…" she smiled, "…well, let's just say she thinks you're as gorgeous as I do. " Ok, that was a small lie; she hadn't shown Lin any pictures. But who wouldn't find her beautiful?
Michelle didn't reply for a moment, but Angie sensed a change in her mood, albeit a slight one. Finally, she looked up at her. "She…she thinks I'm pretty?"
Angie's smile grew. "Of course she does! Who wouldn't?" She opened her purse and fished through it. "I have a picture of her here somewhere…" Finally she extracted a picture and passed it over to Michelle. It was taken at Lin's pool earlier that summer and showed the two girls standing in their bikinis with their arms around one another and grinning into the camera. Michelle couldn't help but crack a smile as she saw the expressions of joy on their faces. And she was right, Lin was very cute.
Malaysia Escort - Kuala Lumpur Penang Johor Bahru Escort
Her tiny body and small breasts, in combination with her delicate Asian features, looked very sexy in the small yellow bikini she wore. She passed the picture back to Angie and tried to appear nonchalant.
"She's cute. "
Angie put the picture back in her purse. "Yeah, and she's really cool. I know you'd like her. " She leaned forward and took both of Michelle's hands in hers. "So, am I forgiven?"
Michelle gave her a long look. "I dunno…" But Angie could sense she was only teasing her and grinned.
"Come on…let's see that pretty smile!"
Michelle felt her smile spread across her face and couldn't stop it. Angie laughed and squeezed her hands. "Thank you baby! I promise to make it up to you!"
Michelle sighed and shook her head. "Yes, you certainly will!" She gave Angie a stern look. "Please don't make me regret it, ok?" Angie shook her head and Michelle's look softened. "Hey, this was our first fight!"
Angie grinned and winked.
Escorts in Athens - Athens Escorts Directory of Escort Girls and Escort Agencies in Athens. Athens Escorts Services. Escorts List Athens.
"And you know what that means!"
Michelle giggled. "Yup! Makeup sex!" They both began giggling and got up to go. The day was still young and if they were lucky, there wouldn't be anyone at the creek!
Chapter 88
Ashley left the mall after dropping off some things at the dry cleaners. She walked across the parking lot, trying to decide what to do for the rest of the day. Mandi and Jennifer were off with Evan and John and while they'd invited her along, she didn't want to feel like a third wheel. Maybe she'd just spend a lazy morning getting some sun and enjoying the summer weather before it ended.
A girlish laugh caught her attention and she looked over to see Michelle and her friend walking across the parking lot and laughing. It was the same girl she'd met at the creek, the cute blonde who almost seemed to be flirting with her. Angie, that was her name. She stopped and pretended to tie her sneaker and waited for the girls to catch up. If Angie was indeed flirting with her that day at the creek, she needed confirmation. She felt her apprehension rising as they came closer, afraid of what she might discover. For several years now she knew she liked girls but was too terrified to ever act upon it. Just the thought of being ostracized at school was enough to make her put up the front of a heterosexual girl. Not that she didn't like guys - she was no virgin and even kinda liked sex with them.
Turkey escorts directory
But they didn't hold the same attraction as girls. Guys were a practical thing, while girls were just, well, beautiful and sexy.
She stood up as they approached, shielding her eyes from the morning sun. "Hi!"
"Hey, Ashley," Michelle said. She gave Angie a quick look, almost like a warning, then added, "What's up?"
"Hi," Angie said, smiling at her. Ashley met her eyes briefly before looking away, afraid of what she may see in them.
"I was just running some errands," Ashley replied. "What are you two doing?"
Angie opened her mouth to speak, but Michelle was quicker. "We were just hanging out at the mall, but it's pretty dead in there. " Ashley listened to Michelle, but her eyes kept darting to Angie, who was giving her that look she'd seen all too often on guys. She was flirting, her blue eyes teasing hers as she stood quietly next to Michelle. Finally, Ashley looked over at her.
"You mentioned cheerleading. Do you still want to try out?"
"Yeah, I think so," Angie said, her eyes traveling briefly up and down Ashley's body. She instantly felt her nipples stiffen under her look and was thankful she'd worn a bra.
Escort Türkiye - Escort Bayan - Escort İstanbul - Escort Ankara - Escort İzmir - Escort Adana - Escort Bursa - Escort Eskişehir - Escort Sakarya - Escort İlan - Escort Antalya - Escort Mersin - Escort Konya - Escort Balıkesir
"Cool. Then I guess I'll see you at tryouts," Ashley replied, giving her a sweet smile.
"Come on, Ang," Michelle said. "Let's get going before it gets any later. " She gave Ashley a smile. "See you later, Ash. "
"We're going to the creek," Angie said, looking back over her shoulder as Michelle led her away. "Come on by if you want!"
"Maybe. Bye," Ashley said, waving. She was ninety-nine percent certain that Angie was flirting with her, but Michelle was playing it straight. Almost too straight, and that made her think.
She watched them walk away, her eyes drifting down to Angie's ass inside the skin tight jeans. She had a couple pair like that and knew she either had on a very tiny thong or nothing at all under them. She felt her pussy heat at the thought and wondered if Angie really was having the same feelings about her. It certainly appeared that she did, but she was with a guy that day at the creek.
Escort İzmir Escort Bayan İzmir Escort İlanları İzmir Escort Antalya
Then again, Michelle was there too. Could it be possible that they were a couple? She didn't know Michelle very well, but she'd seen her with both Jake and Steve many times, as well as a couple of other guys. Still, it was possible…
As they rounded a corner and disappeared from sight, she made up her mind. They were going to the creek. If there was anything going on between them, they may be going there hoping to be alone. If she hurried, maybe she could go home and get her swimsuit and other stuff and be back there in time to find out. The swimsuit was just a prop, of course. She didn't plan on making her presence known. She hurriedly ran across the parking lot toward her house, her excitement growing at the possibility of finally fulfilling her true sexual desires.
****************************
Angie looked around as they walked along, then subtly slipped her hand into Michelle's, keeping it in the folds of her billowing dress.
"Don't even think about it," she said, fixing Angie with a scolding look.
"What?"
Michelle sighed and shook her head. "I saw the way you and Ashley were making eyes at one another. Come on, Ang…you promised.
İstanbul Eskort Bayan Antalya Eskort Bayan Ankara Eskort Bayan Bursa Eskort Bayan İzmir Eskort Bayan Eskort Bayanlar Masor Bayan
"
Angie huffed. "I can't help it if she thinks I'm hot, babe. "
"No, but you don't have to encourage her either. "
Angie stopped and turned to face her. "So you believe me now when I say she's into girls?"
Michelle sighed and they resumed walking. "I didn't say I didn't believe you. I just said she didn't seem that way to me. But there was no mistaking the way she was staring at you back there. "
Angie looked over at her. "I said I wouldn't start something with her and I won't. "
Michelle smiled and squeezed her hand. "Thank you. "
"Now…" Angie said, her eyes lighting up, "…what about you and me and a little afternoon fun?"
Michelle tried to look uninterested. "I dunno…you didn't finish what you started the last time!"
"Hey! We were interrupted! Not my fault!"
They arrived at the corner of Michelle's street and stopped. "Ok, I'll give you a chance to redeem yourself.
escort bayan, bayan escort, escort istanbul, escort ankara, escort izmir, escort antalya, eskort istanbul, evinde eskort, rus escort, masöz ...
" Angie's grin widened. "I'm gonna go home and get my swim suit and towel. Meet me at the store in a half hour, ok?"
Angie nodded exuberantly. "See ya then, lover!" With that, she trotted off toward her house and Michelle stood watching until she was out of sight before walking to her house.
A short while later they were pedaling side by side toward the creek. Angie had changed into a dress similar to Michelle's and when they met up she was very quick to prove she was also naked under it. Fortunately, the material on both dresses was long enough to cover them as they sat on their bicycle seats, although Angie teased her by pulling hers up when they rode past a gas station with several people in the parking lot. If someone had looked over at the right time they would've got an eyeful!
They turned onto the trail a few minutes later and bounced down to the main clearing. No one else was there so Angie dropped her bike and reached down to lift her dress over her head. Michelle stopped her.
"Wait! Not here! Someone could come along!"
Angie let her dress fall back into place. "So what? We've done it here before. "
"No, I've had sex with Artie here before. And we were seen, remember? Getting caught doing that was embarrassing, but not as much as if it was me and you. "
Angie sighed and picked up her backpack with her swimming stuff in it.
συνοδοί που βρίσκονται στην αθήνα
Michelle was suddenly becoming very anal about things, while she wanted to step it up a notch. But for now she gave in, her urge to get the sexy brunette naked and have her way with her overriding her mild irritation.
"Oh, all right. Where to?"
Michelle looked around, then pointed to the spot where they'd gone the last time, when Angie fucked her with the strap-on. "How about where we went last time?"
They pushed their bikes into the bushes and walked down the narrow path to the small clearing by the creek. Michelle looked over at the log they'd bent her over on their last escapade and felt a trickle of juice run down her inner thigh. That was the wildest sex she'd ever had and she felt a warmth in her belly just thinking about it.
"Hey. "
She snapped out of her erotic memory and looked over to see a very naked Angie standing a few feet away, her fingers toying with her nipples. She was momentarily stunned by the sight of her beautiful body in the sun and couldn't do anything but stare for several long seconds. Angie licked her lips and looked her up and down, her sultry eyes finally meeting hers.
"Are you going to get undressed…" she said in a low tone of voice, "…or do I have to come over there and do it myself?" She took a step toward Michelle and she looked around quickly before reaching down and lifting her dress over her head and dropping it to the grass. Angie paused, taking in her voluptuous curves slowly before resuming her slow approach. She stopped a foot away, close enough that Michelle could smell the scent of her shampoo mingled with the musky/sweet aroma of her arousal. She was holding her backpack in one hand and slowly opened it, her eyes never leaving Michelle's.
Michelle looked down and gasped when she saw her pull out the strap-on. Her eyes went back to Angie's, her stomach all aflutter at the thought of being reamed again by her sexy lover. But Angie held out the toy to her. "I want you to fuck me this time, Michelle. "
Michelle took the dildo in her hand and stared at it. Angie moved closer and kissed her softly, then took it from her. "Turn around, babe, I'll help you put it on. "
Michelle allowed Angie to turn her around and attach the plastic cock to her pussy. As she fastened and tightened the straps, she felt the small rubber nub pressing tighter against her aroused clit and she reached down to grip the unfamiliar prosthetic. She wiggled it back and forth and gasped as her clit was stimulated by it. Angie finished tightening the straps and came around to face her, looking down at the long dildo.
"Mmmm…you look good in cock," she said, moving her hand over it's hard surface. Michelle parted her lips as Angie's hand manipulated the organ to tease her already stimulated clit. She could feel her pussy coating the base of it liberally and the feel of it against her pussy was very pleasurable. As if reading her mind, Angie leaned in and kissed her again, moving her hand up to cup Michelle's breast.
Escorts Collection - world wide Escort Directory
"If you think this feels good, wait until you fuck me!"
Michelle had her eyes closed, enjoying the feelings Angie was creating with the strap-on, but she opened them and grinned lustily at her girlfriend. "Then what are we waiting for? Bend over, bitch!"
Angie grinned and nodded, then went over and placed both arms on the tree she and Steve had taken Michelle with. She wriggled her ass seductively and looked back over her shoulder at the naked girl. "Your slut is ready, baby!"
Michelle walked over and placed her hands on the smooth cheeks of her ass. She gave them a little squeeze and then took the dildo in her hand. She guided it to the swollen pink of Angie's pussy, feeling a little out of place in this position, but was determined to do this. Angie felt the plastic toy press against her pussy and pushed back, forcing it inside. Michelle gasped as the other end once again rubbed against her clit and watched as the entire dildo slowly sunk into Angie's dripping snatch.
"Mmm…I've been waiting a long time for you to fuck me," Angie whispered, looking back at her. "Do me, baby…treat me like the slut I am!" She began to move and Michelle simply stood and watched her for a few strokes before attempting to play the part of the male. It was a little awkward, to say the least. As a girl, she simply wasn't prepared for the motions a guy would do and for a minute or two they couldn't quite find their rhythm. Finally Michelle found her pace and they began to rock together, the long hard shaft plunging in and out of Angie's tight hole. Even though Michelle had watched her being fucked before, it was completely different to be the one actually doing the fucking and it was really getting her going.
"Oh fuck yes!" Angie grunted, moaning as Michelle slammed hard into her.
escort agency athens
"Fuck me hard, baby!"
Michelle continued to slam into her, driven on by the intense friction of the dildo on her own clit. She felt her orgasm building and began to move faster, rocking her body with each thrust. "Oh yeah…I'm cumming!" she gasped, gripping Angie's hips as she felt her body tense.
Angie's reply was a long drawn out groan and Michelle felt her body tremble as she came only a few seconds before her own crashing orgasm. They jerked and moaned as wave after wave of pleasure swept through them before Michelle pulled the plastic dick out and fumbled to get it off. As soon as she had it free, her fingers dove into her pussy and massaged her g-spot in ways the dildo couldn't. It only took a few seconds until she was cumming again, her legs spread wide and face thrust upward. She could feel her muscles straining as she came again and again until she finally pulled her fingers from her dripping hole and looked down to see a very bedraggled Angie watching her with a bemused expression.
"Wow, very hot!" she said, getting to her feet. She went over and took the hand Michelle had been masturbating with and brought her wet fingers to her lips. Her tongue flicked out and began to lick all of her sweet cum from her fingers, finally taking them into her mouth and sucking them clean. When she finished, she pulled Michelle's naked, trembling body to hers and kissed her hard and deep. Michelle returned the passionate kiss and wrapped her arms around Angie's neck, holding her tightly. For the time being, she was lost in her own little world, blissfully unaware that they were being watched.
Chapter 89
Ashley grabbed her bikini and stuffed it into her backpack along with a towel, and sunscreen.
Malaysia Escort - Kuala Lumpur Penang Johor Bahru Escort
She dashed back outside and into her mother's car, a red convertible Bug, and started off toward the creek. She didn't want Michelle or Angie to see her so she took the long way around, parking on an old logging road about a hundred yards from the trail to the creek. She took her backpack and hurried along the shoulder of the road, then ducked into the woods a few yards from the path. She wasn't sure if the girls were here yet and didn't want to bump into them. She made her way as quickly and quietly as possible through the woods until she reached the edge of the clearing and peered out. No one was there and she listened for anyone talking, but heard nothing. She checked her watch. It was only twenty minutes since they parted ways at the mall. They would've had to walk home and get their bikes so she was certain she'd arrived before them. She crouched down in the bushes to wait.
About fifteen minutes later she heard the sound of bicycles coming down the trail and parted the bushes so she could see who it was. When Angie sped by, followed quickly by Michelle, she smiled to herself. Now it was time to learn the truth about those two, and maybe take it to the next level.
She crawled back to look into the clearing and peeked out just in time to see Angie start to pull her dress off. She felt her nipples harden at the anticipation of seeing the sexy blonde undress and was disappointed when Michelle said something that made her stop.
Escorts in Athens - Athens Escorts Directory of Escort Girls and Escort Agencies in Athens. Athens Escorts Services. Escorts List Athens.
She strained her ears to hear what they were saying and thought she heard the word "sex" but couldn't make out anything else at that distance. Then they both picked up their bikes and her heart sank. Were they leaving? When she saw them push them into the bushes, a smile crept across her lips. She watched them go down the trail the creek and after giving them a head start, stepped out of the trees and ran over to the trail. She listened for any signs that they were close and hearing nothing, cautiously made her way along the trail.
When she was almost to the creek she moved off the trail and into the trees. She had to get down by the creek where the two large boulders would provide her with some cover. As quietly as possible, she skirted around the clearing and crept up behind the boulders. Taking a deep breath, she slowly peered over the top in time to see Michelle take off her dress as the fully naked Angie watched. They came together in a passionate embrace and Ashley was transfixed. She'd had this secret desire for girls for some time now, but to actually see two girls making out like this was really getting her going. And the fact that one of them seemed attracted to her as well was almost enough to make her cum in her jeans.
She watched them making out, then gasped when she saw the strap-on come out. When Angie turned in her direction and bent over the fallen log, she could see her beautiful tits hanging as Michelle stepped up behind her and started to pound her with the huge dildo. With each thrust, Angie and Michelle's tits shook and quivered and Ashley began to knead and fondle hers almost without realizing it.
Turkey escorts directory
Her pussy craved attention and she got to her knees and unfastened her jeans, slipping her other hand inside to her wet panties. As she fingered herself to the lesbian sex taking place only a few yards away, she felt herself starting to cum almost immediately. She pulled her other hand from her tits and clamped it over her mouth to stifle any sound she made, closing her eyes as the orgasm released, flooding her pussy with her juices. She looked down and saw a wet spot forming on her jeans and frowned. She should've taken them down.
When she looked back up, Angie and Michelle were still going at it. Michelle was really getting into it, hammering away at Angie with her head thrown back and eyes closed. She looked down at Angie and froze. Unlike Michelle, Angie's eyes were open, and she was looking directly at her. She swallowed hard and felt her face heat up, then gasped in surprise when Angie grinned and winked at her before Michelle removed the strap on from her pussy and the sexy blonde turned away to watch her lover masturbate.
But Ashley didn't notice what Michelle was doing. She was petrified with fear. She'd been seen! She quietly fastened her jeans, forgetting about the dark wet spot between her legs, then began to crawl away. She vaguely heard a cry as Michelle came but didn't look back. All she wanted was to get away, then find a hole to hide out in for the next hundred years or so.
Escort Türkiye - Escort Bayan - Escort İstanbul - Escort Ankara - Escort İzmir - Escort Adana - Escort Bursa - Escort Eskişehir - Escort Sakarya - Escort İlan - Escort Antalya - Escort Mersin - Escort Konya - Escort Balıkesir
She tried to remain quiet until she reached the main clearing, then broke into a run up the trail and all the way back to her car. She dropped into the drivers' seat and sat there gripping the wheel tightly while she regained her composure. This was bad, very bad. When word of this got out she'd be a laughing stock and…
Then a new thought hit her. They weren't going to say anything! If they did, everyone would know they were lesbians! And besides, didn't Angie grin and wink at her? It was almost as if she'd known she was there the whole time and wanted to make sure she knew it! Her dread at being caught slowly turned to excitement as she considered the implications of what had happened. Angie had been flirting with her, of that she was now positive. But what had led her to think she liked girls? Was it the way she acted or something else…some kind of sixth sense? As ridiculous as that sounded, she couldn't reject it because something had told her the very same thing about Angie. She started the car and backed out, her mind whirling with the knowledge this day could become a major turning point in her life - the day she began to live the way she wanted.
***********************************
Angie stretched her arms over her head as she lay naked on the grass after being fucked silly by Michelle. She looked up at her lover, who was sitting cross-legged on a towel at her feet, her still flushed face turned upward toward the sun. Angie examined her body, now so familiar yet still able to take her breath away, especially while still aglow from their animated love-making.
"I'm so in love with you Michelle," she said.
Michelle opened her eyes and looked down at her, a loving smile lighting up her pretty face. "I love you too, Ang. " She uncrossed her long legs and crawled over to lie with Angie, resting her head against her full breasts.
Escort İzmir Escort Bayan İzmir Escort İlanları İzmir Escort Antalya
Angie began to stroke her hair and Michelle cooed contentedly.
They lay there for some time, each caught up in their own thoughts and happy just to be there in one another's arms. But Angie's thoughts were on more than just the love she shared with Michelle. When they said goodbye to Ashley back at the mall, Angie made sure she knew where they were going, and she'd taken the bait. When she saw her head peering over the top of the boulder, it'd given her a thrill like no other to know they were being watched by the sexy cheerleader. Now it was up to Ashley to make the next move. After all, she made a promise to Michelle that she wasn't going to pursue her. But she didn't say anything about Ashley pursuing her. And even though she knew in her heart it was wrong, she couldn't get Ashley out of her mind and had to have her, even if it meant risking her relationship with Michelle.
Chapter 90
Steve flopped down on the couch after taking a shower and turned on the TV. It was almost five o'clock and he couldn't stop thinking about how he'd cheated on Angie. Well, ok, so they weren't exactly a monogamous couple, but there were some unwritten rules and he'd clearly broken one. Still, her seemingly insatiable sexual appetite was becoming more and more difficult for him to deal with. He was ok with Michelle, of course, and even Artie and Kristi turned out to be pleasant additions to their little group. Jake was still a bit of a wild card, but so far he seemed to be toeing the line.
İstanbul Eskort Bayan Antalya Eskort Bayan Ankara Eskort Bayan Bursa Eskort Bayan İzmir Eskort Bayan Eskort Bayanlar Masor Bayan
But Angie's infatuation with Ashley was going a little too far, and while she told him she wouldn't take it any further if he asked her not to, he hated to instill limitations on her. True, she was technically his girlfriend and he had a right not to want her seeing other people, but there were a lot of gray areas where sex was concerned.
He sighed. Then there was Katie. He wondered why he felt the need to be with her. Between Angie, Michelle, and Kristi he already had more pussy than he could handle. What was it about her that caused him to so easily be lured into having sex with her after he'd lectured Angie on the dangers of bringing more people in? Well, he reasoned, for starters, he didn't exactly 'bring her in' - it was only the two of them and from the way Katie was acting, she wasn't real keen on her sister or anyone else finding out. Also, she was going back to California in a week. Or maybe it was the fact that she was twenty and he was able to satisfy her. That was certainly a feather in the cap of any sixteen year old. Still, he'd fucked another girl behind everyone's back and the guilt was there.
Jake had called a little earlier and told him about the wood in the sheds being in good shape and that they'd found a good spot to build the cabin on. He wanted everyone to go and check it out tomorrow, but Steve had to work until one (and then there was his 'date' with Katie after work) so he told him to take the others and go. If everyone else approved the site, he was fine with it.
The phone rang, breaking him out of his thoughts and he reached for the portable on the coffee table.
escort bayan, bayan escort, escort istanbul, escort ankara, escort izmir, escort antalya, eskort istanbul, evinde eskort, rus escort, masöz ...
"Hello?"
"Hey, sexy!"
"Angie, hi!"
"What'cha doin'?" Her voice had a playful lilt to it that he recognized as her way of telling him she was horny and wanted to play.
"Nothin'…just sitting here watching TV until dinner. You?"
She let out a long sigh. "Just lying here on my bed naked, and thinking of you. " He couldn't help grinning at the mental picture of her naked body stretched out on the bed, no doubt with her fingers between those creamy thighs. "Think we could get together later for a little…" her voice dropped an octave, "…fuck?"
He chuckled. "Don't beat around the bush, gorgeous, tell me what you really want!"
She giggled, then gasped and he felt his cock twitch as he realized she must indeed be pleasuring herself. "I was with Michelle at the creek today and she used my strap-on on me, but all it did was make me hornier for the real thing," she said in a husky voice.
Steve swallowed hard, his cock growing inside his shorts. "Oh, really?" he finally managed to say.
"Uh-huh. Think we can get together after dinner?"
"Uh…sure," he replied, "Where?"
A low moan came through the receiver, then she said breathlessly, "Here. Mom and Dad are going out to a movie. We can break in the new house. "
"Sounds good.
συνοδοί που βρίσκονται στην αθήνα
I'll see you tonight, then. "
"They're leaving around six-thirty. I'll expect you no later than six-thirty-five, ok?" Steve agreed, then Angie said, "There's something else…" She wanted to tell him about Lin, but first she wanted to see if he might be up for something a little different. "I'd like to play a little game, if you're up for it. "
"A game? What kind of game?"
She grinned and pushed a finger into her pussy. Just the thought of what she had in mind was making her even wetter than she already was. "Well, I'd like to do a little role-playing. You know, pretend we're someone else and act out a little fantasy I have. "
"A fantasy?" She detected a hint of reservation in his voice.
"Come on, it'll be fun!"
"You don't want me to wear some weird costume do you?"
She laughed. "No, no…nothing like that. " She paused, then lowered her voice to a sexy purr. "I want you to come over and just…use me. I'll pretend to resist, but don't stop. Just take me and fuck me any way you want, like you're raping me.
" She waited for his response, but the phone was silent. "Steve? Are you still there?"
It took him a few seconds to respond. "Uh…yeah, sorry…you just kinda took me by surprise. Did you say you want me to rape you?"
"Yes, and don't stop no matter what I say or do. " She began to rub her clit and moaned softly. "Fuck, I'm getting turned on just thinking about it!"
"But…what if I hurt you?"
She was ready for that. "We'll have a safe word, but only stop if I say that word. "
He was silent for a few seconds. "Are you sure about this?"
"Oh yes, I'm sure. I know you'd never hurt me and I love it rough. I want you to tie me up, spank me, throw me around, call me names like slut and whore…do whatever you want.
He thought about it and part of him did find the idea of doing that somewhat exciting, but another part still wasn't convinced. "Angie, I don't know…"
She interrupted him. "Steve, you won't hurt me.
Escorts Collection - world wide Escort Directory
I trust you. Just try it and if you don't like it we can stop, ok?"
"Well, all right. But you have to promise to tell me the second it gets too rough, ok?"
She grinned, her fingers still teasing her wet pussy. "Of course. I'll give you the safe word now, so the game will start as soon as I open the door, ok?" He agreed. "All right. Only stop if I say Isn't that a bird?"
"I wanted to use a word I'd never use so there'll be no mistaking it. One more thing…I'll be wearing old clothes, so don't be afraid to rip or cut them off. " She took a deep breath. "So, we're all set? You know what to do?"
He said he did, although he wasn't entirely sure he could go through with it. He asked her one more time if she really wanted to do this and she assured him that she did. They said goodbye and hung up and he stared at the phone for several moments. One thing he could say is that life was never dull with Angie. He went upstairs to help with dinner, trying to work out exactly what he was going to when she opened the hung up the phone and lay back on her bed and closed her eyes, her legs wide open and her fingers moving rapidly over her wet pussy. Just talking about her rape fantasy with Steve had pushed her to the edge and within a minute she was cumming, her back arching off the bed and her naked body trembling with the force of her orgasm.
escort agency athens
She finally collapsed to the bed, panting and spent, and lay there for several minutes as she enjoyed the warm afterglow. Eventually she got up and went to run a bath. She wanted to be nice and fresh for when her man came to rape her!
Chapter 91
At six-twenty, Steve sat astride his bike about a half block from Angie's house. Her parents' mini van was still in the driveway and he fidgeted nervously as he waited for them to leave. He had a plan worked out in his head and hoped it fit in with what Angie wanted him to do, but he was still a little reluctant to treat her like that. After, she was the girl he loved. Still, this was her idea and he remembered how turned on she got whenever their sex got a little rough.
He was pulled from his thoughts by the sound of a car starting and looked up to see the Donnelly's mini van back out of the driveway and drive off in the opposite direction. Taking a calming breath, he began pedaling toward the house, going over in his head what he was going to do.
He dropped his bike by the side door and went up the steps. He paused for a second, then knocked on the door. A moment later it opened and Angie stood there in a white top and matching skirt, looking very sexy.
"Yes?" she said, peering through the screen door as if she didn't know him. At first he was confused, then he realized they were supposed to start role-playing right away.
"Uh, hi," he said, remembering his part, "My car broke down and I wonder if I could use your phone.
Malaysia Escort - Kuala Lumpur Penang Johor Bahru Escort
"
She hesitated for a moment, then said, "I guess so, but wait here and I'll go get it. I'm not supposed to let anyone in the house. "
She turned around and he suddenly pulled the door open and pushed in, grabbing her wrist and pinning it behind her back and putting his other hand over her mouth. She cried out and struggled, but he held on and pushed the door closed with his foot. He leaned in so that his lips brushed her ear.
"You look like you need some company, baby. Why don't you and I go downstairs and have a little party?"
She continued to struggle but he released her mouth and wrapped both arms around her waist, then lifted her kicking feet off the floor and started down the stairs. "No! Please stop!" she cried as soon as soon as he removed his hand from her mouth. She continued to beg and plead for him not to hurt her as they made their way down the stairs to the family room. As she continued to struggle, he found he was becoming turned on both by what they were doing and by the feel of her body moving against his groin.
He looked around and spotted some white nylon ropes lying on the floor next to the couch. Apparently she was serious about him tying her up. He set her back down on her feet and she tried to move away, but he grabbed her arm and pulled her back. She cried out for him to let her go, but he noticed the wild look in her eyes and grinned maliciously.
"Oh no, bitch, we're going to have a little fun first! If you please me, maybe I'll let you go!" She continued to plead but he ignored her and gripped both wrists in one hand as he reached for the rope.
Escorts in Athens - Athens Escorts Directory of Escort Girls and Escort Agencies in Athens. Athens Escorts Services. Escorts List Athens.
She continued to struggle and he gave her a hard smack on the ass. "If you keep fighting me it'll only make it worse. " That calmed her down a little. He tied one end of the rope to one wrist, then spun her around and tied her hands together behind her back. Once her hands were secured, he turned her to face him, his eyes traveling up and down her body, finally settling on her tits.
"Nice tits, whore. Why don't we take a closer look?" She tried to turn away, but he grabbed her by the shoulder with one hand while the other reached out and hooked the collar of her shirt. She'd had the foresight to snip it in a couple of places earlier and when he gave a sharp tug, it literally ripped from the collar almost all the way down to her waist, leaving her breasts partially uncovered. He grinned at her, then finished tearing it open so that it hung open, completely exposing her beautiful tits. He looked down at them, marveling once again at the length of her nipples and the fullness of her firm tits. He reached out and squeezed one roughly, then pinched her hard nipple. She let out a small yelp. "Very nice. "
"Please…" she whimpered in a voice that almost made him believe she wasn't acting, "…please don't do this!"
"Shut the fuck up, whore!" he growled, "Get on your knees!" He pushed on her shoulders and she dropped to her knees before him, her head bowed and her hands still firmly tied behind her back. He unfastened his pants and pulled out his hard cock, stroking it and pointing it at her face.
Turkey escorts directory
She turned her head, but her grabbed her by the hair and forced her to face it.
"Please…no…" she moaned, trying to shake her head.
"Open that fucking mouth, whore!" he cried, surprising even himself with the conviction in his voice. She shook her head and squeezed her lips tightly closed. He gave her hair a sharp tug and she cried out, but when he attempted to push his cock into her mouth, she quickly closed it again so that the tip merely slid across her lips.
"You fucking little cunt!" he roared, pulling her hair so that she was forced to look up at him. He was really starting to like this game and when he saw the look of pure animalistic lust in her eyes, he knew she was enjoying it even more than he was. "You're going to suck my cock even if I have to fuck that mouth like I'll be fucking your cunt later!" He gave another hard pull and she cried out again. This time, he pushed the tip of his cock between her lips before she had a chance to close them. She tried to pull away, but he held her firm, pushing her head forward until almost half of his cock was in her mouth.
"Now we're getting somewhere!" he said. He began to push her head back and forth, holding it with both hands. She began moving with him and he eased up on his grip, realizing that she wouldn't be able to say the safe word with his cock buried in her mouth. She continued to move back and forth, even taking him a little deeper, so he knew she was still ok with things.
They kept that up for a few minutes until he felt himself starting to get too close to release.
Escort Türkiye - Escort Bayan - Escort İstanbul - Escort Ankara - Escort İzmir - Escort Adana - Escort Bursa - Escort Eskişehir - Escort Sakarya - Escort İlan - Escort Antalya - Escort Mersin - Escort Konya - Escort Balıkesir
He pulled her mouth from his throbbing cock and forced her to look up at him again. "Very good, whore! I think you liked that, didn't you?"
She started to shake her head, but he gave her hair another hard pull. "Y…yes!" she cried
"Yes what?"
"I…I liked it. "
"What did you like? Tell me!"
She bowed her head submissively. "I liked…sucking your cock. "
He grinned. "I thought so. Fucking whore!"
He pulled her to her feet, then reached down and yanked her skirt off. She wore a pair of white cotton panties under it and he could see she'd cut them like she had the shirt. "If you liked that, then you're gonna love what's next!" He gripped her panties with both hands and gave them a quick lateral pull. The came apart easily and he threw the torn remains to the floor. The scent of her arousal reached him fully and he felt his already hard cock swell a little more. The sight of her wearing only the shredded top was almost hotter than if she was naked.
"Please, sir…" she begged in her best little girl voice, "…please…I'll suck your cock, but please don't…don't rape me. "
He laughed and pushed his pants down, kicking them off.
Escort İzmir Escort Bayan İzmir Escort İlanları İzmir Escort Antalya
"Oh, yes, you will suck my cock, but I intend to fuck that little pussy real good first!" He spun her around, holding her tied wrists, and leaned in to whisper in her ear. "I might even fuck that tight little ass too!"
She began to plead again for him not to, but he ignored her. Holding her wrists, he bent her over and kicked her feet apart. He moved up and pressed the tip of his cock between her legs and felt it slip along her wet slit. She gasped involuntarily, still begging him not to do it, as he began to rub the soft tip up and down her swollen lips, then poised it at her opening. He paused for a few seconds, then pushed forward, slipping between her slick labia and into the hot wetness of her highly aroused cunt. She moaned quietly and he pushed in deeper, relishing the feel of her hot pussy enveloping his cock. When he was all the way in, he gave her ass a good smack, causing her to cry out. Again and again, his hand came down on her ever reddening buttocks. He began to move, his cock sliding effortlessly in and out of her well lubricated hole. She grunted under him and he picked up the pace a little.
"Please…" she moaned.
He grabbed her hair and pulled on it, forcing her to arch her back as he continued his assault. "Please what, slut? Please fuck you harder?" He began to move faster and faster until he was slamming hard into her. He could feel his balls slapping against her clit every time he bottomed out and after a few minutes he could feel her vagina start to grip his cock tighter, signaling she was about to cum.
İstanbul Eskort Bayan Antalya Eskort Bayan Ankara Eskort Bayan Bursa Eskort Bayan İzmir Eskort Bayan Eskort Bayanlar Masor Bayan
He continued to plow into her until he felt her entire body shake and her pussy clamped down so hard he could barely move. He slowed down, allowing her to fully enjoy her orgasm and giving him a chance to keep himself in control.
Once he sensed she'd finished, he pulled out and pulled her upright, spinning her around to face him. He glanced to her open bedroom door and, holding her by the wrists, shoved her toward it. He frog-marched her into her room and threw her onto the bed, then grabbed her legs and flipped her over onto her back. He pulled her to the edge of the bed, then hoisted her legs up and pushed them apart. He stepped between them and, watching the look of pure ecstasy on her face, placed his cock against her pink lips and shoved it all the way into her hot cunt.
She grunted and closed her eyes as she was once again filled with his hardness. He began to pump in and out, holding her legs and using them for leverage. He began to move faster until the force of his thrusts lifted her ass from the bed. She could another orgasm approaching and couldn't believe how much this was turning her on. Once again, she felt her body tense and groaned loudly as she came again, this time feeling the release as she squirted all over his cock, flooding her already wet pussy with her own ejaculate. She was cumming non-stop, her head rolling from side to side in pure sexual bliss, when he suddenly withdrew and grabbed her by the hair, pulling her up. She opened her eyes and looked up to see him stroking his slick cock and aiming it at her face.
"Open up, whore!"
He gave her hair another hard pull and she cried out just as his cock erupted, plastering her lips and face with his hot seed.
escort bayan, bayan escort, escort istanbul, escort ankara, escort izmir, escort antalya, eskort istanbul, evinde eskort, rus escort, masöz ...
She gagged and sputtered, but he held her firmly until he finished. She still had her mouth open and he could see the white pearls on her tongue. Before she had a chance to close her mouth, he shoved his cock in and she pretended to try to pull away, but he pulled her head forward, sinking it even deeper.
"Suck it, bitch! I need you to make me hard again so I can fuck that tight ass!"
She moaned as the full taste of his semen flooded her mouth and she felt the slippery goo on her teeth and sliding down her throat. She really wanted to have him fuck her ass so she put all of her cock-sucking talents into reviving his still hard, but slowly diminishing cock. She wished that her hands were free so she could use them to help, but that would ruin the fantasy so she'd simply have to make do with her mouth and tongue.
Steve sighed and moaned as his girlfriend's mouth engulfed his softening dick. He was still very much turned on and it didn't take long until she was able to stop his shrinking and soon had him started back to full hardness again. She'd never taken his entire cock in her mouth when it was fully erect, but it had gone down enough that she was able to suck him to the root for a while. When he began to grow again, she still tried to take him all and he heard her gagging. He released all pressure on her head so she was in control. He loved the feel of her taking him deeper and if she wanted to do it, he wasn't going to try to stop her.
But after a few moments, he'd grown too big and she was no longer able to take his entire length. She pulled off and looked up at him, licking at the few drops of cum that had leaked from the corners of her mouth. He grinned down at her.
συνοδοί που βρίσκονται στην αθήνα
"You're a good little cock-sucker, aren't you?" She nodded, bowing her head. He pulled on her hair again, forcing her to look up to him. "Say it, whore! What are you?"
"I'm a…cock-sucker," she said in a low voice. Forcing her to say these degrading things was something she hadn't thought of, but she loved it! He was really playing the part wonderfully, much better than she'd expected!
"Yes, that's exactly what you are…a cock-sucker," he mused. He pushed her back on the bed, then flipped her over onto her stomach. Climbing onto the bed, he moved her so she was lying with her head on the pillows and her feet at the foot of the bed. He glanced at the clock on the nightstand. It was already almost eight. The movie ended at nine and it would take her parents about fifteen minutes to drive home. They still had enough time for what he had planned.
Straddling her legs, he untied the ropes from her hands, but left it tied to one wrist. He leaned forward and tied it to the bedpost, then bent over her and whispered, " Wait here…I'll be right back!"
He went out to the other room and gathered up the rest of the pieces of rope, then came back into the bedroom. She was on her knees on the bed, trying to untie her hand and looked at him with a look of utter horror when he caught her trying to escape.
"Why you little fucking cunt!" he roared, striding across the room. She cowered to the far side of the bed, but he grabbed her tied hand and pulled her back, slipping her ass several times until she wailed and he saw several handprints appear on her reddened flesh.
It had to hurt, yet she still didn't say the safe word.
As she lay on the bed pretending to sob and plead for him to let her go, he climbed back onto her and tied her other hand to the opposite bed post. Then he tied each ankle to the lower bed posts and pulled the ropes until her legs were widely spread before tying them off. He sat back and pulled his shirt off, then looked down at the nearly naked girl spread eagle before him on the bed. His cock was so hard it was almost painful and he dipped a hand between her legs, wetting his fingers with her copious fluids. Then he spread her ass cheeks and rubbed his wet fingers over her puckered anus. She gasped and turned her head.
"Please…no…not there!"
He grinned and gave her ass another slap, causing her to cry out. "Shut the fuck up, you goddam cock-sucking whore! I'm not leaving until I've fucked every one of your holes at least once!"
She whimpered and said in a low voice, "If you must, please use some lube…in there. " She gestured toward her nightstand and he understood. Lube! Shit! In his excitement he'd almost forgot! He leaned over and opened the drawer and retrieved the tube of lubricant. He squeezed out a generous amount and coated his cock, then added more to Angie's tight little asshole. She shuddered when he rubbed it in and groaned when his finger penetrated her to push it inside.
"Well, well, I think you liked that!" he said, forcing his finger in deeper.
Angie moaned and pressed her face into the pillow.
Escorts Collection - world wide Escort Directory
Steve got to his knees between her legs and looked down at her exposed asshole. The only other time he'd done this had been doggie style and he hoped this [position was going to work. He leaned forward and guided his cock to her little brown hole and pushed. He heard her cry out, her voice muffled by the pillow, but she didn't tell him to stop so he began to work it in. He heard her moaning, then her cries became louder as she turned her head.
"Oh god, please stop!…It hurts so bad!"
Still no safe word, so he pressed on. Slowly, she opened up and the head pushed in. He gasped at the tightness and the heat, pausing so he could force the urge to cum away. The whole time, she was babbling almost incoherently for him to stop, but he didn't hear the safe word. He pushed in deeper until he finally had his full length buried in her anal cavity. He began to move out, then back in again. Angie stop pleading and began to moan in obvious pleasure. She felt so hot and tight he wasn't sure if he could hold out for long, but he was determined to .
https://www.6guide.be/
is the top online escort service in Belgium!
Belgium escort models can turn you crazy
Why do people consider that it's too difficult to find call girls in Belgium? Belgium may be small but it is packed full of sights and radiant sweet things. Visiting our site, you may admire slim-shaped girls and spellbinding females, redheads and blondes, emo girls and modest misses. All of them have their own amazing talents and preferences. You may always contact the call center that supports all clients. It works non-stop. Just say what you want from a hottie, describe a perfect female body and they will find an appropriate escort girl from the huge list.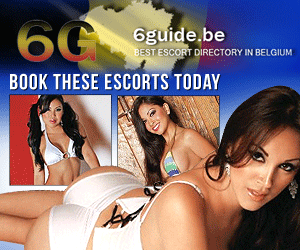 You make a decision where to go with your escort girl. It can be a walk around a Belgian town, business meeting, party, dinner in a restaurant or anything else. If you're here for the ancient or modern history, and tranquil canals, you may need a smart companion. Our minxes will be happy to keep you company during tourist excursions. When coming to Belgium, you should see Grand Place in Brussels, and some other touristic attractions. Check the
escorte brussels
to see the top-class escort models that are ready to get acquainted with you in Belgium. All of them can give you pleasure of your tastes.
All the high-class Belgium escort services on one site
Belgian escort agencies do a great job and give their customers with the top escort services in this country. If you decided to call a girl, please, contact the agency and inform about your plans beforehand. It will guaranty that your escort girl will be ready for 100%. They are able to give you Nuru massage that will make you forget about all troubles and help release stress. You will enjoy the sexual entertainment, too. Romantic damsels with elegant body shapes can demonstrate you what a real passion is. When using services of Belgian escort, you may be sure of the quality. First of all, you should know that privacy is the most important thing in this business. Sometimes, our customers are worried about their business reputation or relations with their girlfriends. We understand it and do everything that is possible to keep your meeting with an escort model in secret. You can invite a madwoman to your place, a rented apartment, hotel room or our agency can provide you with a nice place as bonus. Feel like a successful gentleman for one night or more thanks to our unmatched call girls. You shouldn't lose such a possibility. If you are lonely – you need a brilliant vamp. If you have a spouse, she will never know about your time-spending. This is the high-class Belgian escort company with fabulous temptresses for all tastes.
sint martens latem girls escort
is amazing source of pleasure. When you have fun with our escort models, you become absolutely happy and nothing can make you upset or disappointed.
Escort girls
Escort girls -
colombia escort girls
Escort Dyroy
Passionate dates with first-class escort models of Malta on
https://www.topescortmalta.com/
!
Radiant escort models from the high-class agencies in Malta!
Malta is a Southern European country where you can find a lot of mischievous escort models. This place is a well-known tourist destination with a nice climate, multiple attractions, and historical monuments. You'll be glad to be accompanied by a glamorous starlet while visiting War HQ Tunnel, and St. John's Co-Cathedral.Our online service of escort models in Malta deserves your attention. When people are looking for sexy girls that can make them happy and please to the full, they use our online service. Check the long list of the most impressive escort girls in this town and make the decision. Any of them can satisfy you in a few hours. Does it sound fantastic? Everything is real. Malta girls will show you the amazing enjoyment! Petite baronesses with fashionable curves and radiant faces are ready for entertainment. See their profiles to choose the most appropriate one. Age, height, and contact information are all you need. You will be glad to date one of them or all of them in turns. These babes are not far away from you. Let one of them know that you are interested in a meeting. If your hurt tells that you need to meet one of these mind-boggling dolls, you should listen to it.
https://escorthub.org/escorts-from/malta/
gives you a chance to change your life and meet hotties that cannot be forgotten.
The top-class escort agencies in Malta on one online service
Malta escort services provide you with all information about marvelous cuties. These information is very useful when a client is looking for such extreme entertainment like BDSM, pissing or some other fetishes. Fulfill all your wishes thanks to
https://www.topescortmalta.com/
. It is not easy to choose an appropriate sex partner in real life but this site gives you amazing opportunity. Delightful, intelligent, and uninhibited tootsies can't wait to love you and have unforgettable time together.If you want to get pleased by two escort girls at once, we will find two stunners who work in a team. New damsels and new tours appear on the site permanently. Winning chicks are ready to date you and bring all priceless pleasures. Gentlemen use escort services very less. Most of them consider that it is too much for them. This is not true. If you want to admire ravishing bimbos close to you, this dream should become true Most of all call girls of Malta do their work perfectly. You can experience it if you come to this exotic country. All useful information is
https://www.topescortmalta.com/